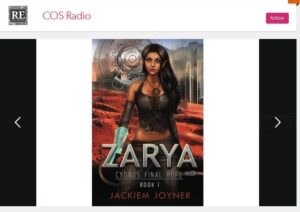 Book Lights of Reader's Entertainment Radio catches up with author Jackiem Joyner who talks about science fiction and his new novels Zarya and Minor Assasin.
Jackiem is also a musician and host Lisa Kessler talks about books, music and his author's journey.
PODCAST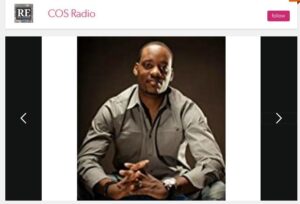 Jackiem Joyner has loved Science Fiction ever since he was a child, fascinated by all the stories and imaginations of futuristic worlds. But it wasn't until later in his life, after experiencing huge success in the recording business, that he decided to put pen to paper – the result of which is his debut novel, Zarya.
Gathering from his experiences traveling the world as a recording artist, he developed a knack for good science fiction stories after reading several books a month. Having used and operated many devices from the future, he incorporated exciting equipment and imaginary scientific ideas into dramatic thrillers that are sure to keep readers on edge.
Jackiem was born in Norfolk, Virginia and spent most of his young adult life in Syracuse New York before moving to Los Angeles, California where he currently resides. In addition to writing fun stories, Jackiem Joyner has experienced huge success as a recording artist, with multiple songs peaking at number 1 on the billboard charts and 5 international records released. You can learn more on his website here: http://jackiemjoyner.com/books/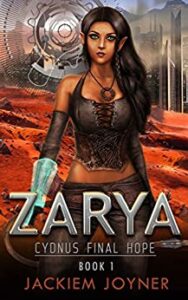 MORE ABOUT ZARYA
Governed by a brutal military, Cydnus is an advanced desert planet with drones and flying killing machines. Buildings that claw high into the sky. Everything is under surveillance and everyone is controlled by this system. It's a fact, the way of life, and no one dares question it.
That is, until Zarya's father confronts Gerik, the planet's sadistic, chief military officer. Immediately, he's silenced and never heard from again.
In a desperate search to find her parents, Zarya uncovers a plot by Gerik to release a lethal weapon against the people, killing half the population. The weaker half with inferior DNA. Using her father's research and detailed specs of the technology used by the military, she is Cydnus's only hope.
Equipped with Sochi, her AI-powered flying airboard, and accompanied by her high school friends, Zarya sets out on a journey to find her family, stop Gerik, and save her home from certain destruction.
MORE ABOUT JACKIEM
Contemporary saxophonist, author, and music producer Jackiem Joyner is set to release his 7th album, Touch, worldwide this fall, 2019.
After more than 12 years as a recording artist, Jackiem continues to stand out with electrifying live performances and brilliant music productions. As a performer, he has toured over 30 countries and performed with the likes of the late George Duke, Marcus Miller, Keiko Matsui, Donnie McClurkin, Angela Bofill, Najee, Kirk Whalum, Peter White, and many, many more. Joyner's radio success is widely known within the industry.
Joyner has two number 1 hit songs, five top 10 billboard singles, and a number one debut album under his belt. In addition, he published the highly acclaimed science fiction novel Zarya, which received high praise and a five star rating on Amazon.
"This album is about romance," Joyner explains of Touch. "I wanted to give everyone something hip, smooth, and sexy at the same time." The record has an urban feel, laced with the hottest down tempo vibes. The album shares similar textures to the music of artists Tank and Trey Songz. Joyner's soprano sax leads the charge through most of the album.
"My approach to performing on this record was to be melodic and dynamic with my horn". Peter White joins Jackiem on the first single, "Last Dance". The combination of soprano sax and nylon guitar pulls you in with its romantic and catchy melody.
Najee serves up the flute on a dreamy urban song called "Fairytales". The unique mix of flute and soprano sax on this vibey tune form one of Joyner's best performances and productions. The song was written together with Tim Bailey, aka Twizzboy.
Born to a Vietnam War vet father and dedicated mother in Norfolk, VA,, growing up wasn't easy for Jackiem. He set his sights high from a young age; he always dreamed of being a performing artist, as unlikely as it was, given his humble upbringings. Even as a child, he loved the attention he received from family when he danced away to Michael Jackson songs.
Now, Jackiem is proud to stand front and center on the main stage most weekends around the country. A quick glance at Joyner's track record makes it clear that he continues to beat the odds in a tough and competitive music industry. "I love what I do and I have passion", Jackiem says. "I don't care how hard things get, it'll never stop me from doing what I love: playing the sax, writing music and stories, and performing live." His love of writing novels came as a surprise to many of his fans. "I'm very excited to release my second novel soon after my album release," Joyner says. "Writing stories is now a big part of my creative journey."
The first single from Joyner's last album, Main Street Beat (2017), was named for his daughter, Trinity. Joyner's adoration for his little girl is clearly expressed through the live, pop-influenced song, driven by Steve Oliver's guitar. The song was an instant hit. Reaching no. 2 on the billboard. We're all dying to see if she follows in dad's footsteps with her own stage career some day!
With the creation of his company, JOYNER MEDIA COMPANY L.L.C., Joyner hopes to inspire other creators to follow their dreams and realize their true potential in art and multimedia. When Jackiem is not touring the world, he spends time giving lectures to students across the country. He also enjoys talking to band classes, helping them with practice and offering insight on how to pursue a career in the performing arts.
Currently, Joyner is on a US tour in support of his new album, Touch.
He will be touring Los Angeles, CA – Washingto, DC – Hampton, VA – Melbourne, FL – Detroit, MI – Chicago, IL – Charleston, SC – Houston, TX – Rehoboth Beach, DE – Mazlatan, Mexico – Syracuse, NY – Tampa, FL – Atlanta, GA, and many more cities.