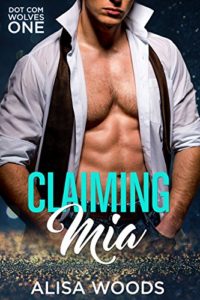 Claiming Mia by Alisa Woods
5 out of 5 stars!
Oh how we love a broken bad guy. Lucas is so sexy I'd really like to claim him!
Lucas is recently back home after a tragedy. He's given up his place as alpha and he's not looking to return to that. He is there to help the family business. But, when he sees a rival wolf pack trio he knows is bad news chasing after the sweet little bartender he can't just stand by and let them have her. Even if it means revealing WHAT he is!
Mia was born a shifter but has hid it all her life. And she has no intention of letting anyone know unless she just can't help is. So, she's happy Lucas has saved her from having to shift in order to protect herself.
Their chemistry is immediate, so when we find out Mia is Lucas's new intern things really start to heat up! Oh but wait! There's still that rival pack we have to worry about. And…all that sexy chemistry!
What a fun read!
ABOUT THE BOOK
LUCAS
I'm a mess. Broken. Lost my mate and almost myself. In no shape to help anyone.
Then the sexy girl serving me drinks stumbles into trouble with a bunch of wolves who are bad business—I should know. They're the competition. And they're as dirty at dot-com investing as they are predatory on young things like her. So I save her. Because I may be broken, but I'm not an ass.
Only she shows up the next day at my office. As my intern.
And now the Red pack is after her, putting us square in a pack war—one she doesn't even understand. I'm in no shape to claim a mate—not happening—but if I don't, the Red's jackass of an alpha will.
MIA
I'm just trying to earn my degree and dig my way out of poverty.
I was born a shifter—more of my bad luck—but I've kept that a secret, so it doesn't ruin my life. Shifters are monsters. Criminals. And I'm trying to make something of myself. This internship at the hottest internet business development firm in Seattle is my ticket out… only the boss is a wolf. And insanely hot. And he saved my life.
I'd break all the rules for this guy—except he wants nothing to do with me.
The wolves who do are the Big Bad Wolf kind. The kind I've always heard about.
I've got nowhere to turn… but to the one guy who doesn't want me at all.
Claiming Mia (Dot Com Wolves 1) is a super-hot complete story with HEA.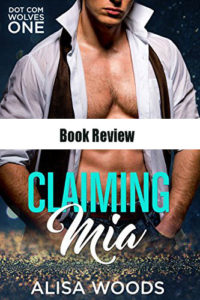 Reviewed by Sheila English