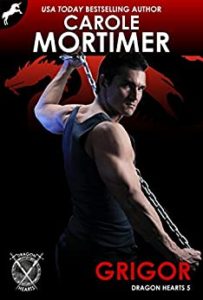 Grigor (Dragon Hearts 5) by Carole Mortimer
4 stars out of 5
Review by Sheila English
I enjoyed this book, but admit that I may have enjoyed it a bit more had I read the previous books. It isn't that you can't read this on its own, but I think the backstory would have helped as I'm introduced to these sexy dragon shifters.
Grigor has been away and he comes back to find he is mated to his brother's wife's sister, Gayle. Grigor is very dark and sometimes his over-the-top anger was a bit much for me, but then again, I guess we need to know just how close to losing it he's coming.
Gayle is very independent and I liked her. Why they couldn't just tell her about the family I wasn't entirely sure. But, she wanted nothing to do with Grigor regardless of how totally sexy he is. Silly girl! Of course the tides turn soon enough and sexy times abound!
ABOUT THE BOOK
GRIGOR is the 5th book in USA Today and Amazon #1 Bestselling Indie Author, Carole Mortimer's, paranormal series, DRAGON HEARTS.
Author's Note: Beware of very sexy alpha dragon shifters on the hunt for their fated mates!
Grigor Pendragon is nearer to turning feral than any of his brothers, of making that final shift and remaining in his dragon form. If— When this happens, his brothers will have no choice but to kill him, before he harms any humans, who for sixteen hundred years haven't known of their existence.
The only thing that will stop Grigor's last and fatal shift is meeting and claiming his fated mate, the one woman meant just for him.
Gayle Wilson is independent and outspoken, a computer geek, and she has no idea her sister, Holly, is now the mate of a dragon shifter, or that Dylan's seven brothers are also dragon shifters.
What she does know is that she's being kept a virtual prisoner at Pendragon Castle, the family's home in North Wales, until her sister comes back from her trip away with Dylan. Gayle isn't at all impressed when Grigor, the eldest Pendragon brother, announces she belongs to him now, and then expects her to do exactly what he tells her to do. Admittedly, he's tall—very!—dark, and handsome, with muscles that go on for miles, but there's no way she's going to belong to anyone, least of all the arrogant and cold Grigor Pendragon. The first opportunity she gets she's getting out of there and going back to London, and to hell with the whole of the Pendragon family.
But when danger starts stalking her, Grigor is the only one she can turn to for help.