Neuro-Linguistic Programming: Read People And Think Positively And Successfully Using NLP to Kill Negativity, Procrastination, Fear And Phobias (Body Language, Positive Psychology, Productivity)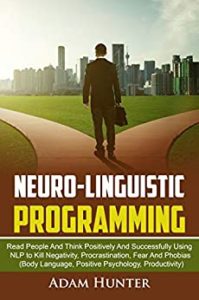 5 out of 5 stars because we love the positivity!
NLP is about controlling your mind. Yourself. It's mind over matter but in such detail and in a  way that you can understand and navigate for yourself. NLP is a technique that helps you reconfigure the way you process things. It helps you adjust your paradigm.
If you believe in the Law of Attraction and that positivity attracts this is a great book for you. It's not easy to be positive in this day and age, but it's possible and it comes with so many rewards. This book gives you easy to follow steps, bits of wisdom you can actually apply to your life and see results.
This can help in both your personal and professional life. Learn how to better communicate. Learn how to be positive. Learn about your triggers. This is a book that can change your life, now and for the future.
Reviewed by Sheila English