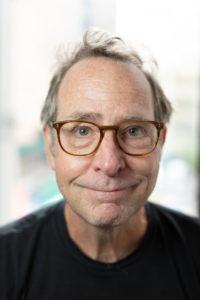 Special Feature:
A FUNNY THING HAPPENED WITH AUTHOR BRUCE VAN DUSEN
I was making a Burger King commercial. We were shooting in a large mall in LA. They'd only let us in after 10:00 pm so we didn't disrupt things. The spot was simple. Two couples are trying to figure out where to eat. They're standing in the food court so we wanted to fill it up with people so it looked busy. No problem. Hire a lot of extras: shoppers of all ages. And families. With kids. There's the problem.
Kids under the age of 15 can't work on sets in California after 10:00 pm. But it'd look strange to have just adults wandering around. LA being LA, someone had figured this out. They'd created a casting company that represented little people. A big part of the business was having little people work in the background of scenes like the one we were doing dressed as little kids.
If the camera focused was on the people close to the lens, the background went all fuzzy. And the little people looked like fuzzy little kids. They were pros. They came with all the props. Hats. Funny t-shirts. School backpacks. Sneakers that glowed in the dark. Baseball mitts. Dolls. You're supposed to roll with anything when you're a director. You act like you've seen everything. But I had never seen anything like these fifty little people riding carousels, climbing on benches and doing perfect imitations of actual 7-year-olds annoying their parents!
Check out Bruces' latest release:
60 STORES ABOUT 30 SECONDS: HOW I GOT AWAY WITH BECOMING A PRETTY BIG COMMERCIAL DIRECTOR WITHOUT LOSING MY SOUL (OR MAYBE JUST PART OF IT) BY BRUCE VAN DUSEN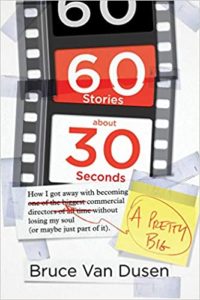 (Releasing Sept. 15th) You've probably seen more movies made by Bruce Van Dusen than any other director alive. 1977. New York City. Cool and crime-ridden, cheap and wild. Bruce Van Dusen shows up in town with a film degree and $150 to his name. He wants to make movies. So he does. The only ones anyone will pay him to make? Little ones. Thirty seconds long. Commercials. He has no idea what he's doing and the money sucks. But he's a director.
He quickly learns he has the two things he needs to succeed in the fickle world of commercial- making: a talent for telling short, emotional stories, and the hustle to fight for every job no matter how small. He still has no idea what he's doing—not that anyone needs to know that. He just keeps making it up as he goes along.
He gets hired by a client on life support in the most depressing hospital in New York. Gets peed on by a lion. Abused by Charles Bronson. Explains peristalsis to a Tony winner. Makes a movie and goes to Sundance. Goes back to little movies when it bombs. Keeps hustling, shooting anything. Gets married, has kids. Pushes, shoves, survives. Gets divorced. Survives some more. Is an asshole, pays the price, finally learns when and how to be an asshole and becomes one of the industry's stars. Years go by and it's not what he expected. It's harder, weirder, and funnier. But it worked out. It worked out great, actually.
ABOUT THE AUTHOR:
Bruce Van Dusen has had a more than four-decade long career as a successful director of commercials. Whether you wanted to or not, you've seen his work. Tons of it. His memoir about the ins and outs of his career and life, 60 STORIES ABOUT 30 SECONDS: How I Got Away with Becoming a Pretty Big Commercial Director without Losing My Soul (Or Maybe Just Part of It), will be published by Post Hill Press/Simon & Schuster on September 15, 2020. After graduating from Boston University's School of Public Communication, Van Dusen moved to New York in hopes of making documentary films. A week before he ran out of money, he got hired to work on a commercial and discovered a business he never knew existed. Within two years, he was directing commercials. Over the next four decades, he became one of the industry's busiest directors. His work with movie stars, athletes, politicians, child actors and semi-trained animals took him from New York to Los Angeles, Milan to Manila, Rio to Rome, and Miami to Montevideo.
His commercials have won many awards, but since all commercials win some kind of award, that's not much of an accomplishment. He's also directed three feature films and a documentary. The first film, Cold Feet, was a Sundance finalist, a critical failure, but a commercial success. The other films didn't do so well. Proof that commercials were right where he belonged. Bruce Van Dusen was born in Detroit and lives in New York City.
FIND OUT MORE ABOUT BRUCE AT:
Website: www.brucevandusen.com
Facebook: https://www.facebook.com/brucevandusenauthor
Twitter: https://twitter.com/brucevandusen
Instagram: https://www.instagram.com/brucevandusen1/