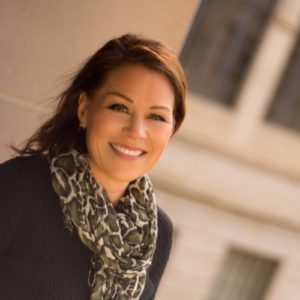 Special Feature
School of Hard Knocks Writing with author Kelly Brakenhoff
Have you ever hiked up a mountain?
I live within a day's drive of the Colorado Rockies where we enjoy hiking on vacations. Have you ever made the kind of hike where the switchbacks and terrain hide the true mountaintop? You see a point far away and begin climbing, but when you arrive at that point, you realize it was just a ridge. The mountaintop is farther away and higher up than you expected.
For me, becoming an author has been a climb up the highest mountain I ever imagined, taking buckets of sweat and tears (and gallons of wine) to accomplish over a period of more than five years. I thought writing the book was the hard part. I mean, I had dreamed of becoming an author my whole life. I made several attempts when my kids were younger and struggled to find the time.
Hitting that publish button was thrilling and satisfying, like reaching the top of a difficult cliff of large boulders. I had done something many people only dream about but never found the time to accomplish. I deserved a good, long pat on the back! But wait, only a month into that euphoric ride into the bastions of literary history, I came face to face with a harsh reality. (See fig.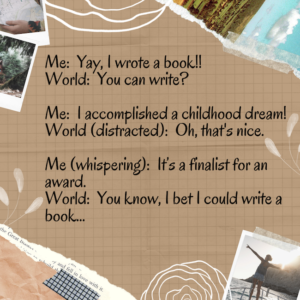 #1) I wasn't anywhere near the top. I'd barely risen 1,000 feet in elevation!
The hard lesson I learned was that writing the first book was the easy part.
Writing was one job. The marketing, promoting the book, finding new readers, maintaining a website, learning social media, learning about advertising, planning school visits, and now learning how to do all of that virtually during a worldwide pandemic is another full-time job!
Should I blame the world? Why wasn't the reading public lined up around the block at independent bookstores everywhere, or online click, clicking my Buy the Book button? To find the answers, I asked my more experienced writer friends for advice.
Turns out, I needed a huge mindset shift.
If I wanted to be known as a professional author and not simply a person who had written a book, I had to act like an author. I consulted my respected author friends who guided me along the trail, advising me how to reach the next ridgeline.
Writers write. Hundreds of pros repeat these mantras to newbies. "Write a little every day." "Writers are always thinking about their stories." "Even one hour a day can help you accomplish your goals." Heck, the entire premise of National Novel Writing Month (NaNoWriMo) in November is that if you write 1657 words for 30 days, you end up with a 50,000-word first draft. These things are all true and great and if you enjoy writing as a hobby, you definitely should not let anyone stop you.
But I didn't want writing to be my hobby.
I wanted it to be a part-time job now, and a career I could transition to full-time when I retire. I wanted to be a professional author. Authors write books (or short stories or graphic novels, or whatever your jam). Again, and again. Rinse and repeat. So, while Harper Lee may be the exception to the rule, most authors write three, or five, or twenty books before they even inch beyond the threshold of complete anonymity.
Being an author is a job. For some it's a part-time job squeezed in between a day job, family, and other duties. For others it's a full-time career. What I've learned is to identify mentors who have traveled the path ahead of me and reached out a hand, showing me where to climb next.
My mentors have suggested books to improve my writing craft. I've learned better ways to connect with readers, how to build community, how to automate office tasks, among many other things. All so I have more time to focus on the part I loved in the first place—the writing!
The coolest aspect about being eighteen months into this author hike is that when I look back to the beginning of the trail, I see a line of people coming after me. When newbies ask me questions or advice, I'm happy to give it. This mountain is a tough climb, a labor of love with rare glimpses of glory. If we keep going one step at a time, we'll get there eventually.
I had no idea that entering the company of authors would mean I'd meet cool, interesting, kind and caring people from around the world. People I call friends even though we've never met in person. My mindset now is an eagerness to learn more about the business every day, knowing that it takes years of work and many books to see substantial progress. The joy for me is in the relationships I've made with the community of readers and authors along the journey.
About the Author:
I've loved words and language since grade school when my younger sister and I crafted homemade comic books featuring the adventures of dogs and cats–think Snoopy meets Garfield. I wrote the text, while she provided the illustrations. They were pretty bad.
From my books, you'll get to read about Deaf Culture, American Sign language, Hawaii, Nebraska, academia, cooking, baking, religion, sports, dogs and whatever new hobby I'm into next. Life is a great ride, and I'd love to take you down the road with me-one book at a time.
Learn more about Kelly at her website.