Fit & Fabulous: 3 Step System for Fit, Fun & Fierce Vitality for Women Over 40
By Maya Mondesi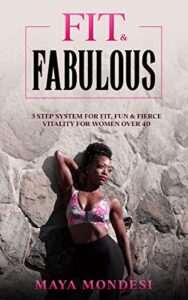 I give it 5 stars out of 5
This book hits all the right spots. It has information that is presented in a positive, easy, and calm way that you feel supported as you read. There's a level of enthusiasm that really makes you feel that you can do this.
The setup of the book is fantastic. I can't say enough about that. It's informational, educational, and spiritual while also teaching you things about emotions and food, what to eat, what not to eat and it's got a workbook portion to it for those of us who like to take action.
I highly recommend this book to anyone looking to be fit & fabulous!
ABOUT: If you want more vitality to reclaim your health and spontaneity, then keep reading.
63.7% of American Women between the ages of 40 to 59 are the least happy people! There are many factors that factor into that statement, weight loss being a major part. To establish wellbeing it is important to have your mind, body, and spirit working together.
Most feelings of midlife crisis or feeling of not being enough come from lack of balance and perspective. But scientific discoveries have been made available from decades of research that are now presented and made easily attainable for everyone to apply immediately. A cohesive Mind, Body, and Spirit connection allow us to navigate through life effectively.
Did you know exercise improves antibodies and white blood cells (WBC) causing them to circulate more rapidly? WBCs are the body's immune system cells that fight disease. Exercise also slows down the release of stress hormones, which can increase the chance of illness.
In this book you'll discover:
How to become strong and active as you age.
How to achieve wellness.
How to lose weight and keep it off.
How to shift from stuck and unsatisfied to happier and satisfied.
How to be a complete and harmonious whole.
Why continuous growth is necessary.
How to reclaim your life.
and much more…
As a FREE BONUS to help you put well being into action you will receive a great at Home Workout and Nutrition Plan for trimming your waist and toning your body.
Reviewed by: Sheila English