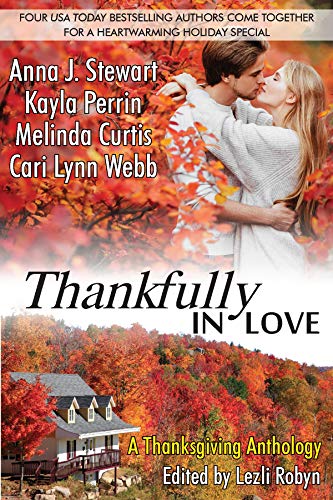 THANKFULLY IN LOVE — A Thanksgiving Anthology
Four USA Today bestselling romance authors come together for Thanksgiving, telling the stories of four woman who have not had the best experiences with the men they have dated in their pasts. With the help of family and loved ones this holiday season, can they learn to open their hearts one more time? If they can dare to make the leap, they could find themselves finally, thankfully in love…
There's no place like home, especially during Thanksgiving. After spending ten years as an officer and analyst with a special division in a federal cyber-investigation, Tripp Atsilla is on the brink of burnout. Then he meets Parker Rutledge. Two years ago she changed her name and moved to a small town, hoping to leave the damage her ex-husband caused behind. Someone's found her; someone who wants to make her pay for her ex-husband's crimes. But can she trust Tripp? Can she trust anyone? …
Miranda Cox isn't looking forward to heading home for Thanksgiving. She'd raved to everyone that Matthew was the one; now she has yet another failed relationship under her belt. Despite working as a translator in Ottawa, and loving travelling abroad, she's thirty-four and still single. When Miranda arrives at Union Station in Toronto, she's surprised to see Taz, her childhood friend. Years earlier, they'd drifted apart. Miranda was so hurt over the loss of their friendship. She's also shocked to learn that he's divorced. Miranda finds herself inviting him and his sick mother for Thanksgiving dinner at her parents' place. It is finally their time? …
Chef Drew Barnett has been hired to create the perfect Thanksgiving for a potential restaurant investor, but a power outage has him scrambling to find a working kitchen. Jilted bride and food critic Claire Rothchild is pet-sitting a friend's St. Bernard named Snowflake. She wants to hibernate for the holidays, but it turns out the guest house she's staying in has power when the main house does not. Feeling uncomfortable for invading the privacy of his potential investor's guest, Drew doesn't know what to make of a food critic in his kitchen, just as Claire doesn't know how to stop interfering with his dishes and passing tidbits to a mooching pooch. Is this a recipe for a Dog-Gone Holiday? Or for love? …
Born with a degenerative eye disease, photographer Kelsey Thomas knows two things: she will be legally blind within five years and her family wants to see her married and settled first. Then Kelsey's boyfriend breaks up with her one week before she planned to introduce him to her family at her grandmother's island commitment ceremony. At the resort bar, she meets Dr. Noah Lawson. He spends his life inside his lab developing cutting-edge techniques to slow the progression of vision loss. When he's offered funding with strings―save the eyesight of the granddaughter of a wealthy investor―he's reluctant to agree. Noah is smitten by Kelsey―so much so that he agrees to be her fake wedding date for the Thanksgiving holidays. Too late, he realizes her connection to his potential investor. Is this a set-up? Or fate? …
About The Authors:
USA Today and national bestselling author Anna J Stewart has always had a book in her hand or a story in her heart. A child of the 70's, early obsessions with Star Wars, Star Trek, and Wonder Woman set her on the path to creating fun, pulse-pounding romance in multiple sub-genres. Since her first novella with Harlequin in 2014, Anna has written and published more than forty romances and swears she's just getting started. When she's not writing, she's dealing with a serious Supernatural and Jason Momoa addiction, experimenting with new cooking and baking recipes, surrounding herself with family and friends or hanging out at her local theater and attending fan conventions. You can read more about Anna, her books, and her workshops for writing groups at www.AuthorAnnaStewart.com. …
Born in Jamaica but raised in Canada, Kayla Perrin is a USA Today and Essence bestselling author with over forty books, for major publishing houses including St. Martin's Press, HarperCollins Publishers, Kensington Books and Harlequin. She is published in romance, mystery/suspense and mainstream fiction. She's been featured on television shows such as Entertainment Tonight Canada, Who's Afraid of Happy Endings (Bravo documentary), A.M. Buffalo, and the CTV News. She has also been featured in Ebony magazine, Romantic Times magazine, The South Florida Business Journal, The Toronto Star, The Hamilton Spectator and many other Canadian and U.S. publications. In October 2007, she was featured in the Italian version of Vanity Fair. Her works have been translated into Italian, French, German, Spanish and Portuguese. Please visit her website at www.authorkaylaperrin.com.
Prior to writing romance, award-winning USA Today bestseller Melinda Curtis was a junior manager for a Fortune 500 company, which meant when she flew on the private jet she was relegated to the jump seat―otherwise known as the potty. In addition to her Sunshine Valley series from Grand Central Forever, she's published independently and with Harlequin Heartwarming, including her book Dandelion Wishes, which is an upcoming TV movie starring Amber Marshall. She lives in Central Oregon with her husband―her basketball-playing college sweetheart. While raising three kids, the couple did the soccer thing, the karate thing, the dance thing, the Little League thing and, of course, the basketball thing. Between books, Melinda spends time with her husband remodeling their home by swinging a hammer, grouting tile, and wielding a paintbrush.
USA Today bestselling author Cari Lynn Webb lives in South Carolina with her husband, daughters and assorted four-legged family members. She's been blessed to see the power of true love in her grandparent's 70 year marriage and her parent's marriage of over 50 years. She knows love isn't always sweet and perfect, it can be challenging, complicated and risky. But she believes happily-ever-afters are worth fighting for. She loves to connect with readers.
Lezli Robyn is an Australian genre author and Assistant Publisher of Arc Manor, who has moved to the United States, where she lives with her blue-eyed mini-Dachshund/Chihuahua named Bindi (which means "little girl" in several indigenous Australian dialects).
She currently edits Caezik Romance's holiday related anthologies. She previously edited Heart's Kiss magazine.