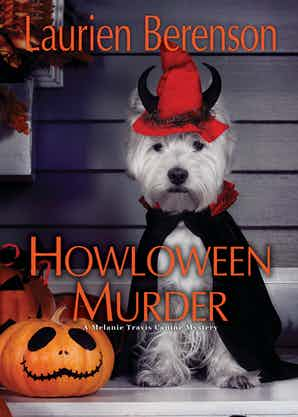 Howloween Murder – A Melanie Travis Mystery #26 by Laurien Berenson
As the town of Greenwich, Connecticut, counts down to a spooky celebration on October 31st, a horrifying murder leaves Melanie Travis pawing for clues in a hair-raising game of trick-or-treat . . .
 
With just a few days left before Halloween, everyone at Howard Academy is anticipating the guaranteed sugar high they'll experience from gorging on Harriet Bloom's famous marshmallow puffs. The private school's annual costume party revolves around the headmaster's assistant and her seemingly supernatural batches of gooey goodies. So, it's a shock when Harriet's elderly neighbor is suddenly found dead with the beloved dessert in his hand. In a snap, police start questioning whether Harriet modified her top-secret recipe to include a hefty dose of lethal poison . . .
Melanie knows her tenured colleague would never intentionally serve cyanide-laced puffs to a defenseless old man. But as explosive neighborhood gossip reveals a potential culprit, it also brings her closer to sealing her own doom. Because on an evening ruled by masked revelers, bizarre getups, and hidden identities, Halloween might just be the perfect opportunity for a cold-hearted killer to get away with murder once again—this time sending a nosy, unsuspecting sleuth to an early grave!
CLICK THIS LINK TO PURCHASE HOWLOWEEN MURDER.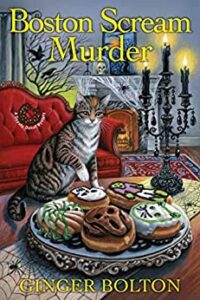 Boston Scream Murder — A Deputy Donut Mystery #4  by Ginger Bolton
Halloween in the small town of Fallingbrook, Wisconsin, is the perfect season for Deputy Donut owner Emily Westhill to unmask a killer.
October 31 is just around the corner and Emily Westhill's Boston cream donuts, carved with a scream, have made an indelible impression on local eccentric Rich Royalson. So much so that he's ordered three dozen, with no screaming faces and twice the fudge frosting, for his seventieth birthday—a special event in more ways than one. It's to be held on fog-shrouded Lake Fleekom where, twenty years ago, his wife mysteriously drowned.
But the next day, when Emily arrives with her Boston cream donuts, she stumbles upon Rich's corpse. The poor guy wanted a unique birthday bash—just not one to the side of his skull. With a guest list of possible perpetrators left at the scene, Emily soon discovers that the Royalson closet is rattling with skeletons. As the fog thickens, motives mount, and the tricks outnumber the treats, Emily fears that Rich may not be the last one in Fallingbrook to go out screaming.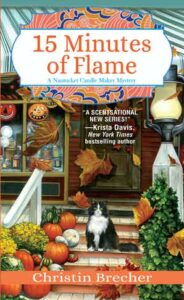 15 Minutes of Flame — Nantucket Candle Maker Mystery #3 by Christin Brecher
As Stella Wright's Nantucket candle store thrives, her knack for solving mysteries burns equally bright—especially when a Halloween haunted house uncovers evidence of a centuries-old murder . . .
When Stella's friend inherits a creaky, abandoned home in Nantucket, she knows it's the perfect setting for the town's annual Halloween fundraiser. A deserted, boarded-up building on the property—once used as a candle-making shop—adds to the creepy ambiance. But as Stella explores the shack's dilapidated walls, she discovers a terrible secret: the skeleton of a Quaker woman, wrapped in blood-soaked clothing and hidden deep within a stone hearth . . .
While police investigate, Stella wastes no time asking for help from friends with long ties to Nantucket's intricate history. The key to the murder may lie within a scorching 18th century love triangle that pit two best friends against one another over a dubious man. But before the case is solved, another life will be claimed—leaving Stella to wonder who in Nantucket is friend, and who is foe . . .