About the book- Three children get transported by witches to a ship, Racer, taking part in a race for recovering crown jewels of many countries stolen by hi-tech thieves. During this race with a prize of hundred billion dollars, the children read the clues given by an albatross, kill a Scareman, calm a white elephant, win a battle with flying pigs, tame a Trojan horse with the help of a bridge to nowhere, get the assistance of a man from Mars, recover the loot from the tallest tree using ship's cannons and finally get the better of the robbers, the pink panther, a queen bee and the man from Mars.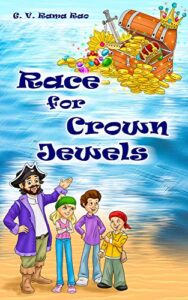 3.5 stars out of 5
Review:
In Race for the Crown Jewels by GV Rama Roa three children are taken via witches and dropped off for a voyage with a sea captain for a race to find crown jewels. This is an adventure story for children around 6-10 in my opinion.
There's every manner of fantastic creature from Scareman made of rocks to a white elephant, pink panther and even a space man. You learn things along the way like how time works with location, about Moby Dick, etc.
The book needs a round of editing for sure, but I think you can read around that.
The cover made me think this was a picture book but there are no illustrations inside the book.
Many tales of children on adventures have altercations with bad guys. This is no different. My main concern is that children are sent on a race for crown jewels and they go to lands that belong to other people, are not given permission to be there and then are willing to kill the indigenous people to get the treasure that's not even theirs. If that doesn't bother you, this is a great book for little kids who love adventure stories.
A rhyming parrot, witches, a voyage and race, finding crown jewels and adventure.  Teaching about Moby Dick and learning about how time changes according to location. An island with a creature made of rocks called "Scareman", a charging white elephant and a flying pig. A pink panther and a wooden horse.  The horse is a Trojan Horse. A Knight looking for the jewels, too. A spaceman acting like a genie.