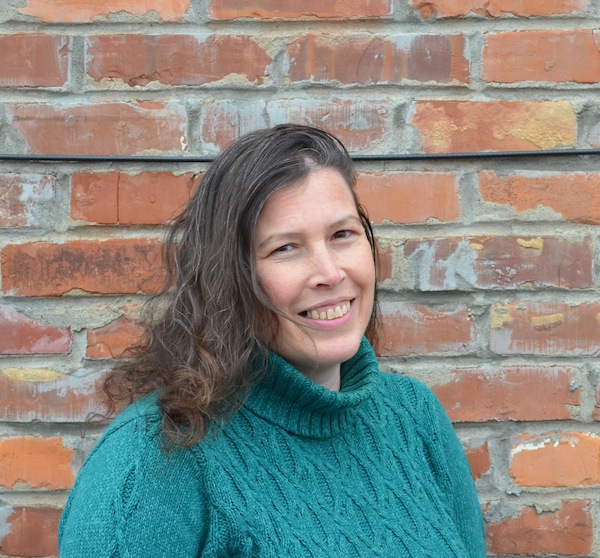 Dependent upon the season, my favorite recipe varies. During the summer, when my garden overflows with an abundance of zucchini and crookneck squash, so does my oven with Lime-Zucchini or Lemon-Crookneck bread.  Once the first hint of autumn is in the air, there's a batch of molasses cookies cooling on the counter.  And once November rolls around, it's time to pull out my recipe for Sweetheart Salad.
Mom whipped up this confection on every major holiday, including Easter.  I have no idea of its origins – if it made its way into her recipe collection via the back of a gelatin box or the pages of the Betty Crocker cookbook, or if it was handed down from her mother or favorite aunt.  All I know is no holiday meal was complete without it, and continuing the tradition once I became an adult, the ingredients for two batches are added to my grocery list each year the day after Halloween.
You may wonder why I limit myself to making it only at Thanksgiving and again at Christmas.  Well, first, the term 'salad' is deceptive.  There's nothing healthy about this dish unless you count maraschino cherries and crushed pineapple as your daily fruit requirement.  And secondly, though it ended up on the table next to the turkey, mashed potatoes, green bean casserole, and crescent rolls throughout my childhood,  Sweetheart Salad – with its cream cheese, whipped cream, and aforementioned fruit-ish ingredients – leans more towards a dessert than a side dish.
Not that I voiced any complaints at how or when it was served, as long as a fluffy helping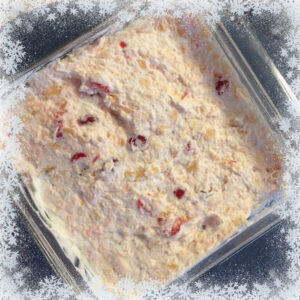 or two made it onto my plate. Which brings me to why I prepare this delectable concoction only twice a year.  My husband doesn't care for it, so I'm the one polishing off (with gusto, I might add) an 8" x 8" Pyrex dish of sinful goodness, and while it's yummy on my lips (oh, so yummy), each teeny, tiny spoonful makes a beeline straight for my hips.  But what's an extra pound or two at the holidays, right?  So, as long as the ingredients for Sweetheart Salad make their way to grocery store shelves, they'll also make their way into my kitchen – and tummy.  And, if you drop by for a visit, I might even share 😉
Sweetheart Salad
Ingredients
2 cups of crushed pineapple, drained
½ cup white (granulated) sugar
1 ½ pkg unflavored dry gelatin – do NOT mix with water first
2 tbsp lemon juice
1 pkg (8 ozs) cream cheese – softened
1 16 oz jar of maraschino cherries – drained and destemmed
½ pint of whipping cream
Cook pineapple, sugar, gelatin, and lemon juice in saucepan over low heat, stirring until sugar dissolves.  Remove from heat and let cool.
Using a stand mixer (or by hand), beat cream cheese and cherries on low speed until creamy.  Chunks of cherries are okay.  Add to cooled pineapple mixture. Refrigerate.
Whip cream until stiff.  Fold gently into chilled fruit mixture.  Spread in an 8" x 8" baking dish.  Refrigerate until set.  Arm yourself with a spoon and enjoy.
Take a look at Kristine's latest release: SEASONS OF LOVE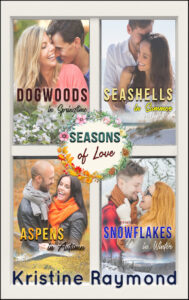 Four couples.  Four seasons.  A lifetime of love.
Dogwoods in Springtime
Still in mourning three years after her husband's death, Caroline Ballard's solitary life in rural Kentucky is disrupted by a broken water line, of all things.  As if the lack of running water wasn't bad enough, her immediate attraction to plumbing contractor Rick Spencer unearths emotions long thought buried.  Opening her heart to love for a second time, a malicious lie told by his ex-wife threatens to end the budding relationship before it begins.
Seashells in Summer
Having adopted her four-year-old daughter, Lily, at birth, Taylor Brightman is suspicious when former Marine Sergeant Grant Cutler appears on her Nantucket Island doorstep claiming to be the girl's biological father.  Wary of his motives, his good looks and charming personality win her over, but can she trust that she won't lose custody along with her heart?
Aspens in Autumn
Ramsey Fiorentino is having a bad day.  On the run for her life after witnessing a murder, she's being pursued by none other than Bishop Hamilton, a private investigator hired by the person who committed the crime.  When he catches up to her and the truth comes out, they flee to the mountains of Flagstaff, Arizona to hide, but it's only a matter of time before their newfound romance is tested in the wake of a deadly confrontation.
Snowflakes in Winter
When New Hampshire State Trooper Alex Ballard becomes stranded during a blizzard in the middle of the night, he seeks refuge at a local bed and breakfast, surprised to discover the owner, Chloe Mancuso, is the sole occupant.  A passionate night spent in each other's arms ignites feelings neither thought possible, but there's someone else with his eye on Chloe and he's not willing to share.
Buy link – www.books2read.com/seasons-of-love
ABOUT THE AUTHOR:
It wasn't until later in life that Kristine Raymond figured out what she wanted to be
when she grew up, an epiphany that occurred in 2013 when she sat down and began
writing her first novel. Sixteen books in multiple genres later, she has many more
ideas floating around in her head, thus assuring she'll never be idle.
When a spare moment does present itself, she fills it by navigating the publishing and
promotional side of the business. When not doing that, she spends time with her
husband and furbabies (not necessarily in that order) at their home in south-central
Kentucky, reads, or binge-watches Netflix.
To find out more about Kristine, please visit her website at
www.kristineraymond.com and follow her on Facebook, Instagram, Twitter, and
BookBub.