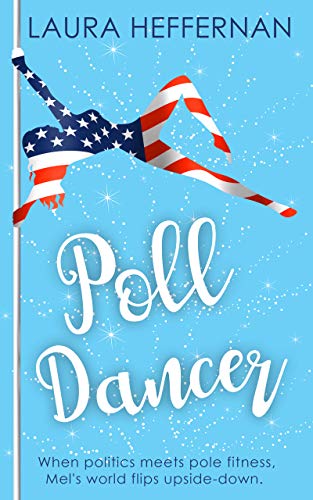 Push and Pole and other great book with author Laura Heffernan
Laura Heffernan is the award-winning, internationally best-selling author of fun, witty romantic comedies and more serious women's fiction. After a few years of practicing law, she realized that she much preferred arguing with her characters rather than other people. It's easier to win that way.
When not watching total strangers get married, drag racing queens, or cooking competitions, Laura enjoys board games, travel, board games, baking, and board games. She lives in the northeast with her husband, the world's most active toddler, and two furry little beasts.
Some of Laura's favorite things include goat cheese, Buffy the Vampire Slayer, Battlestar Galactica, the Oxford comma, and ice cream. Not all together. The best place to find her is usually on Twitter, where she spends far too much time tweeting about writing, Canadian chocolate, board games and reality TV.
Her latest book, Poll Dancer, is out now.
When politics meets pole fitness, Mel's life flips upside-down.
After Mel's disastrous promotional video goes viral,  a "family values" group launches a protest against her dance studio. Their leader isn't just trying to stop her from teaching—he's using Mel as a moral scapegoat for his own senate campaign. If he wins the upcoming election, he threatens to change the laws to keep all pole dancing out of their community.
Mel's no politician, but she's not not going down without a fight. Since running for office beats unemployment, she decides to face off against him. She hires a campaign manager and tosses her hat in the ring. There's just one problem: voters don't understand pole. Mel needs to change her image, fast. If she can't get the people on her side, she won't have a business to save. Worse, Mel finds herself falling for her campaign manager, Daniel, but she can't tell if he likes Mel the dancer or Melody the candidate.
For Mel, the hardest part of running for office may be protecting her heart.
Poll Dancer is a fun, witty update on My Fair Lady, perfect for fans of Sophie Kinsella.
You can contact her at her website, Facebook, Twitter, BookBub, and Goodreads.