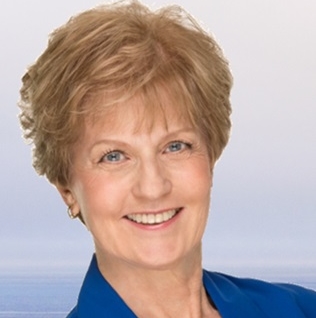 Holiday Décor from Far and Near by Maya Corrigan
We started collecting tree ornaments shortly after we were married, buying them at the open-air market in Nuremberg, when my husband was stationed in Germany. Most of them are tiny wood ornaments as charming now as they were when we first saw them. My in-laws gave us a handmade nativity set from Oberammergau, a town in Southern Germany known for its wood carving.
We also have many home-sewn felt ornaments from craft fairs and year-round Christmas shops in the U.S. The mouse sleeping in a red hammock that hangs from the tree by gold cords is one of my favorites.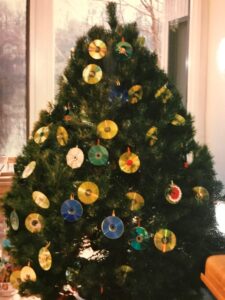 We delight in unpacking those ornaments every year because they bring back memories. There was only one year when we didn't put them on our tree. Instead, I made the ornaments for a themed tree. When I was working for a tech company developing computer-assisted courses, our team burned hundreds of CDs as we progressed through the stages of course development. I hated throwing out the shiny circles, so I decorated them for the holidays, gave my teammates CD ornaments, and hung the remaining ones on our tree.
Starting from the time we got married, we received a Christmas-tree plate as a gift from my husband's aunt and uncle. As you can see from the photo, our collection of plates grew over many years.
In my family the primary holiday meal and gift opening occurs on Christmas Eve. During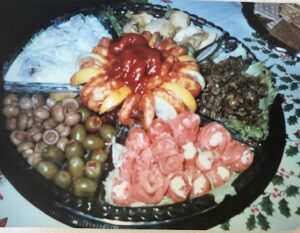 the 30+ years I made dinner on December 24th, I varied the main dish, though I was never allowed to deviate from the fish appetizer platter, a tradition my father started. The photo shows shrimp with cocktail sauce (in the middle), marinated mushrooms, olives, smoked salmon wrapped around cream cheese, smoked oysters, smoked trout, and pickled herring in sour cream. On the side, we always have a cheese platter for any family members who aren't fond of fish.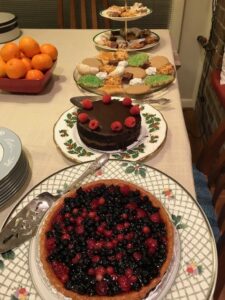 Everyone's favorite holiday table décor is edible—the dessert array, including the cookies we bake every year and the obligatory chocolate lovers' cake.
Though the number of people at our holiday table grew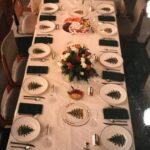 over three decades, it has been dwindling for the last fifteen years as we lose older family members and others move too far to travel easily. This year Covid demands a cozy Christmas around a small table. But we have our memories, and we look forward to next year's holiday when we can all gather again for the traditional celebration.    
Here's a look at Maya's latest release: GINGERDEAD MAN – A Five Ingredient Mystery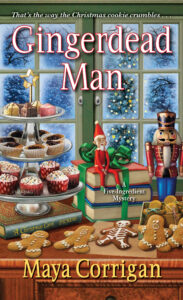 When Santa is sleighed by a poison gingerbread cookie at a holiday party, Val Deniston's reputation is on the line . . .
This holiday season Bayport, Maryland, is a dead ringer for Victorian London. Val and her grandfather are taking part in the Dickens of a Holiday festival. Val is hosting a private tea party serving the festival's costumed volunteers, who range from Dickens divas like Madame Defarge and Miss Havisham to Ebenezer Scrooge and old St. Nick himself.
But one costumed reveler may have gotten the holidays mixed up. The winner of the creepiest outfit, robed in black with a gift bag covering the head—okay, Ghost of Christmas Present, Val gets it—hands out gingerbread men with white icing skeleton bones. This year's sour Santa has none of the big fellow's mirth but plenty of his appetite, and it's no secret Santa loves cookies. But when the man in red turns blue, Val and Granddad have a cookie-cutter killer to catch before the New Year . . .
Includes delicious five-ingredient recipes!
ABOUT THE AUTHOR:
Maya (Mary Ann) Corrigan combines her passion for food and detective stories in her Five-Ingredient Mysteries: By Cook or by Crook, Scam Chowder, Final Fondue, The Tell-Tale Tarte, S'more Murders, Crypt Suzette, and the latest book, Gingerdead Man, a holiday mystery. The series features a café manager and her live-wire grandfather, the Codger Cook, who solve murders in a historic town near the Chesapeake Bay. Each book has five suspects, five clues, and Granddad's five-ingredient recipes.
Ms. Corrigan lives in a Virginia suburb of Washington, D.C. Before writing crime fiction, she taught American literature, writing, and detective fiction at Northern Virginia Community College and Georgetown University. When not reading and writing, she enjoys theater, travel, trivia, cooking, and crosswords. Visit her website for book details, recipes, trivia quizzes, and a free culinary mystery story.
Learn more about Maya and her books by following these links:
Website: https://mayacorrigan.com
Facebook: https://www.facebook.com/mayacorriganbooks/
Group Blog: https://www.mysteryloverskitchen.com
Goodreads: https://www.goodreads.com/author/show/7813064.Maya_Corrigan