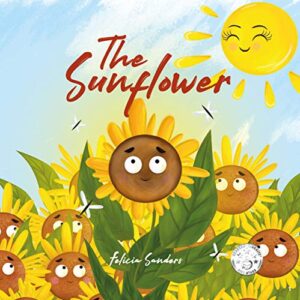 The Sunflower by Felicia Sanders
5 stars
My review: A beautiful little sunflower is born and falls in love with the sun, but the rain comes and the little flower wonders what will happen next.
This is so beautifully illustrated and the story is easy to follow. It also has a little lesson in it that any child will understand.
The end has some motivational quotes as well that I enjoyed.
This is positive, fun and great to read to small children!
ABOUT THE BOOK:
Have you ever wondered what would a sunflower do when the sun is hiding? Its whole identity is created after the sun after all! Find out what is going on in the mind of one sunflower when the skies turn dark. This is an exciting, endearing story told by a sunflower of dealing with the ebbs and flow of its life and how it finds its way back of finding hope and courage in the midst of the night.
This is a great book to help facilitate conversations with your kids and students of how they're dealing with their emotions especially during the pandemic as the world around them change so much. The story portrays how one sunflower is using his courage and intuition as strength and allowing himself to be his authentic self at the end.
For every Sunflower book you purchase, a seed is planted on your behalf to symbolize hope and courage to look up in partnership with a local farm.