Last Call for the Living by Peter Ferris was released in 2012. It's still available today and still just as good!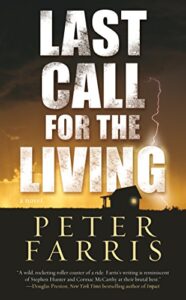 For bank teller Charlie Colquitt, it was just another Saturday. For Hobe Hicklin, an ex-con with nothing to lose, it was just another score. For Hobe's drug-addled, sex-crazed girlfriend, it was just more lust, violence, and drugs. But in this gripping narrative, nothing is as it seems.
Hicklin's first mistake was double-crossing his partners in the Aryan Brotherhood. His second mistake was taking a hostage. But he and Charlie can only hide out for so long in the mountains of north Georgia before the sins of Hicklin's past catch up to them.
Hot on Hicklin's trail are a pair of ruthless Brotherhood soldiers, ready to burn a path of murder and mayhem to get their revenge. GBI Special Agent Sallie Crews and Sheriff Tommy Lang catch the case, themselves no strangers to the evil men are capable of. Soon Crews is making some dangerous connections while for the hard-drinking, despondent Lang, rescuing Charlie Colquitt might be the key to personal salvation.
Check out the book trailer!
And don't miss the Bookend Book Review!
An old book is a new story if you're just learning about it now!