All That Is Bitter and Sweet, A Memoir by Ashley Judd. In 2002, award-winning film and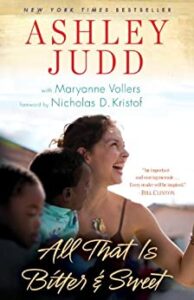 stage actor Ashley Judd found her true calling: as a humanitarian and voice for those suffering in neglected parts of the world. After her first trip to the notorious brothels, slums, and hospices of southeast Asia, Ashley knew immediately that she wanted to advocate on behalf of the vulnerable. During her travels, Ashley started to write diaries that detailed extraordinary stories of survival and resilience.
But along the way, she realized that she was struggling with her own emotional pain, stemming from childhood abandonment and abuse. Seeking in-patient treatment in 2006 for the grief that had nearly killed her, Ashley found not only her own recovery and an enriched faith but the spiritual tools that energized and advanced her feminist social justice work.
Her story ranges from anger to forgiveness, isolation to interdependence, depression to activism. In telling it, she resoundingly answers the ineffable question about the relationship between healing oneself and service to others.
Praise for All That Is Bitter and Sweet

"Ashley Judd has given us magnetic and searingly honest portrayals of diverse women on screen. Now with the same honesty and magnetism, she brings us her true self on the page. From her childhood to her revolutionary empathy with women and girls living very different lives, her path will inspire readers on journeys of their own."—Gloria Steinem

"Over the last decade I have watched my gifted, brilliant friend grow as an artist, but more importantly, as a wise, deeply empathetic woman. I have read the diaries that are the heart of this memoir since she began traveling the world, fearing for her safety and sanity, baffled why she chooses these grueling missions. All That Is Bitter and Sweet will be a revelation to readers, exposing Ashley Judd for what I have known for years she is: an amazing woman doing extraordinary work."—Morgan Freeman

"All That Is Bitter and Sweet is all that is enlightening and inspiring. Ashley Judd has composed a memoir that teaches while it entrances and finds hope and faith in the most unlikely places. The book is full of real-life stories that reflect both the compassion of its author and the need for healing in the world."—Madeleine K. Albright