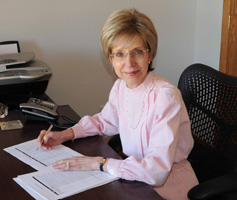 Hi Amanda, tell our readers about your new book, Dreams Rekindled?
Can a man and a woman, both prisoners of their pasts, find love and healing in a town where danger lurks?
What was the inspiration for the book?
There were actually two inspirations: my childhood dream of a career in journalism and Uncle Tom's Cabin. Although I abandoned the idea of journalism when I realized that I preferred to write fiction, I've always wanted to have a newspaperman as a character. Enter Brandon. (As a side note, researching nineteenth-century newspapers was fascinating!) Then there was Uncle Tom's Cabin, arguably the most influential book of the mid-nineteenth century.
What impact would this story, which was banned in the South, have had on a woman who aspired to be a writer and a newspaperman who felt compelled to challenge his subscribers, particularly when both of them lived in a slave-owning state?
As I brainstormed worst-case scenarios, the story began to take shape.
This series is set in a fictional small town in the Texas Hill Country. What role does the town of Mesquite Springs play in the series? I love writing about small towns, because they become characters in my books. Oh, not the towns themselves but the residents and the dynamics that make small towns so endearing and, at times, so infuriating. In the case of Mesquite Springs, that includes a very active rumor mill, a woman named Charity who does not deserve that name, and residents who are perhaps a bit too easily swayed by public
opinion. All of those contribute to the bumps along Dorothy and Brandon's road to happily-ever-after.
Book one in the series, Out of the Embers, focuses on Dorothy's brother, Wyatt. Now, Dreams Rekindled centers on Dorothy's chance at a happy ending. Can you tell us a little more about her character?
Dorothy's one of my most complex characters and, to be honest, she was one of the most difficult to create. She's warm and loving but also deeply afraid. Though she craves independence, she's torn by the responsibility she feels for her widowed mother and her fears that she herself is not meant to be a wife and mother. The question is, can anyone break through the barriers Dorothy has erected around her heart and release her from her fears?
Brandon Holloway comes to town looking for a life free from controversy. What can you tell us about his background?
Brandon's a newspaperman with a high degree of integrity. (That wasn't the case with every journalist in his era.) Though he'd never preach at his subscribers, he wants to challenge them to think. Unfortunately, his editorial suggesting they read Uncle Tom's Cabin to gain a perspective on how the North viewed slavery had tragic consequences, making him determined to never repeat that mistake. Mesquite Springs is
the perfect place for him to establish a newspaper. There's nothing controversial about the town . . . until there is, and Brandon's forced to make heart-wrenching decisions.
Who is your favorite character from the town of Mesquite Springs?
You would ask that, wouldn't you? The truth is, it's a difficult question to answer, a bit like asking parents to choose a favorite child. While I'm writing a book, my favorite characters are the hero and heroine of that book. After all, if I don't love them, how can I expect my readers to? I will admit, though, that secondary characters sometimes steal the show. That happened with Polly, the young girl who's introduced in Out of the Embers. Because she was such a favorite with readers as well as with me, I've given her a role in Dreams Rekindled. And then there's Nutmeg, the dog that stole my heart.
What do you hope readers gain from reading Dreams Rekindled?
As always, I hope they'll finish the book with a smile on their faces, a renewed belief in the healing power of love, and the knowledge that God can—and does—answer prayers.
What new projects are you working on?
I'm currently working on the yet-untitled final book in the Mesquite Springs trilogy. This one brings two newcomers to town—Alexandra, an heiress who's fleeing a dangerous unwanted suitor, and a private investigator on a mission to determine the truth behind Alexandra's father's new and possibly fraudulent venture.
How can readers connect with you?
I love hearing from readers! Truly, they are the reason I write. I suggest they visit my webpage(amandacabot.com) for links to my social media accounts as well as the sign-up form for my newsletter.
Here's a look at Amanda's release DREAMS REKINDLED: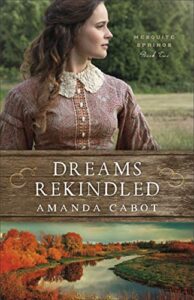 Though she hopes for a quiet, uncomplicated life for herself, Dorothy Clark wants nothing more than to stir others up. Specifically, she dreams of writing something that will challenge people as much as Harriet Beecher Stowe's Uncle Tom's Cabin seems to have. But in 1850s Mesquite Springs, there are few opportunities for writers–until newspaperman Brandon Holloway arrives, that is.
Brandon Holloway has seen the disastrous effects of challenging others and has no intention of repeating that mistake. Instead of following his dreams, he's committed to making a new–and completely uncontroversial–start in the Hill Country.
As Dorothy's involvement in the fledgling newspaper grows from convenient to essential, the same change seems to be happening in Brandon's heart. But before romance can bloom, Dorothy and Brandon must work together to discover who's determined to divide the town and destroy Brandon's livelihood.
With this second novel in the Mesquite Springs series, bestselling author Amanda Cabot invites you to discover the healing power of truth.