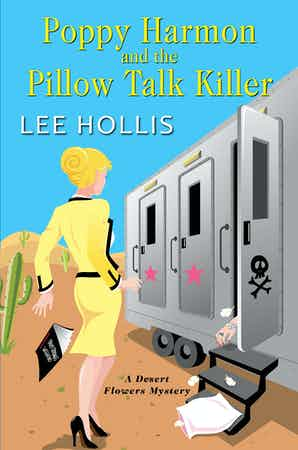 Poppy Harmon and the Pillow Talk Killer
A Desert Flowers Mystery
By Lee Hollis
The Golden Girls meets Remington Steel in Lee Hollis' third mystery set at a Palm Springs retirement community! Retiree-turned-PI Poppy Harmon likes the anonymity of working behind the scenes for the hottest names in Palm Springs. But when solving a case demands dragging her old acting career out of retirement, it's lights…camera…murder!
Cast in her first role since the 1980s, Poppy has never been more rattled or unprepared on a film set. It's an embarrassing but necessary cover to keep an eye on client Danika Delgado, a rising starlet and social media influencer with a large following–including a dangerous stalker who won't disappear. The leading lady's fame is growing, and so are the threats against her life…
Unfortunately for Poppy, there's more to fear than flubbed lines. When she finds Danika smothered to death in her trailer at Joshua Tree National Park, the horrifying crime stirs up memories of a man known as the Pillow Talk Killer during her time as a young actress, bringing unsolved murders from the past back into focus…
A trail of clues urges Poppy, hunky sidekick Matt Flowers, and the rest of the Desert Flowers Detective Agency gang on a frantic chase after Danika's crazed #1 fan. But as co-stars and production crew members start looking equally suspicious, Poppy must expose a slew of insidious industry secrets before a murderer rolls out the red carpet for someone else…
Available at multiple retailers
Murder at Wedgefield Manor
A Jane Wunderly Mystery
By Erica Ruth Neubauer
In the wake of World War I, Jane Wunderly–a thoroughly modern young American widow–is traveling abroad, enjoying the hospitality of an English lord and a perfectly proper manor house, until murder makes an unwelcome appearance…
England, 1926: Wedgefield Manor, deep in the tranquil Essex countryside, provides a welcome rest stop for Jane and her matchmaking Aunt Millie before their return to America. While Millie spends time with her long-lost daughter, Lillian, and their host, Lord Hughes, Jane fills the hours devouring mystery novels and taking flying lessons–much to Millie's disapproval. But any danger in the air is eclipsed by tragedy on the ground when one of the estate's mechanics, Air Force veteran Simon Marshall, is killed in a motorcar collision.
The sliced brake cables prove this was no accident, yet was the intended victim someone other than Simon? The house is full of suspects–visiting relations, secretive servants, strangers prowling the grounds at night–and also full of targets. The enigmatic Mr. Redvers, who helped Jane solve a murder in Egypt, arrives on the scene to once more offer his assistance. It seems that everyone at Wedgefield wants Jane to help protect the Hughes family. But while she searches for answers, is she overlooking a killer hiding in plain sight?
Available at multiple retailers
Dead Even
A Mattie Winston Mystery
By Annelise Ryan
In her previous career as a nurse, Mattie Winston's job was to keep death at bay. Now, as a medicolegal investigator, she's required to study death intimately–to figure out causes and timing, and help deduce whether it was natural or suspicious.
In the case of Montgomery "Monty" Dixon, a well-to-do realtor, there can be little doubt: broken pool cues do not embed themselves. Monty's body is found in the game room of his lavish house, the walls adorned with photos of Monty and various celebrities. But as Mattie and her husband, homicide detective Steve Hurley, both know, money and connections can't protect anyone from a killer.
The first suspect is Monty's wife, Summer, who claims to have been at a cooking class at the time. When that alibi is served up as a fake, Summer moves to the top of the suspects list, but is soon joined by Monty's ne'er-do-well son, Sawyer, who has racked up gambling debts he hoped his dad would pay off. Monty's twin brother is engaging in shady financial deals. An affair, a Ponzi scheme, a disputed inheritance…there are as many motives as suspects, and soon Mattie and Hurley have turned up other, possibly related deaths.
Balancing a high-profile case with the demands of their increasingly stressful household isn't easy. It'll take all of Mattie's skill–along with a lucky break or two–to stop a killer from racking up another victim…
Available at multiple retailers