Even though I lost my mother when I was fifteen, I feel lucky to have had so many amazing women in my life. From my incredible grandmothers to school teachers to my female cousins to writing friends to women in the community. But the one woman who influenced me the most was my uncle's wife, my Aunt Janet. The reason I write it as my uncle's wife is so you would know that she didn't have to be my mentor and my confidante. She used to say that blood was thicker than water, but no one would ever know that we weren't biologically related for how she treated me and guided me into the woman I am today.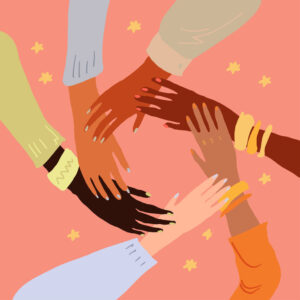 Our close relationship really started after my father passed away when I was twenty and I was newly married. Aunt Janet and I corresponded through letters and she checked up on me with phone calls. Though I lived in a rural area and over an hour away from a university, she encouraged me to get a degree. I enrolled and made the long commute every day. On the phone, I would tell her how my classes were going and how hard it was to raise one child, then two, while going to school and working.
When my husband left after eleven years of marriage, leaving me with the two kids and with me in engineering school, Aunt Janet encouraged me to soldier on. We would talk for hours on the phone, while she helped me to remember who I was before I was married. She reminded me often how lucky we were to be living in this day and age, where women had choices and could do anything. Without her encouragement, I couldn't imagine finishing my undergraduate degree in electrical engineering or my master's degree in nuclear engineering afterward without Aunt Janet cheerleading me on from the sidelines.
Aunt Janet believed family was the most important thing, and she and my uncle rarely missed a big moment in my life, and in my kids' lives, too, as they would drive full days to make our events. Because of her commitment to me and my family, I never felt like I was living my life all on my own.
When my remaining grandmother was near the end of her life, I felt compelled to write a story depicting my grandmother when her twins were born, a story my grandmother repeated often. When I shared the story with Aunt Janet, she gave it praise, but ever the English professor, she reminded me that writing is a craft to be worked on, labored over, and worked on again.
And work on it I did. For my own daughter's graduation from high school, I wrote a book of all the stories that I wish someone had told me when I was eighteen. The lion's share of those stories were ones that my aunt Janet had told me. Stories of lessons learned, little scraps of wisdom, things I thought were important. It was the first book I wrote—100 pages. I had it bound into a hardcover book at a university press—only one copy—and presented it to my daughter with Aunt Janet looking on.
My aunt Janet is gone now from a brain tumor that robbed all of us of her. She never got to see me publish with Penguin Random House, but I'm certain she would be proud, and even more proud to see my tenth book coming out this month. You know, I hear her often in my thoughts when I'm going about my days, thinking about all the things I'd like to tell her and remembering everything she told me. I know I'm blessed beyond words to have had such a woman in my life, such a force. It makes me smile. And on those days where I think I don't want to answer emails, I don't want to do the laundry, why can't I just laze around—surely you've had those days, too. Or the rougher days, like when I lost my brother…I hear Aunt Janet encouraging me with firm dedication…to soldier on.
Patience Griffin WEBSITE