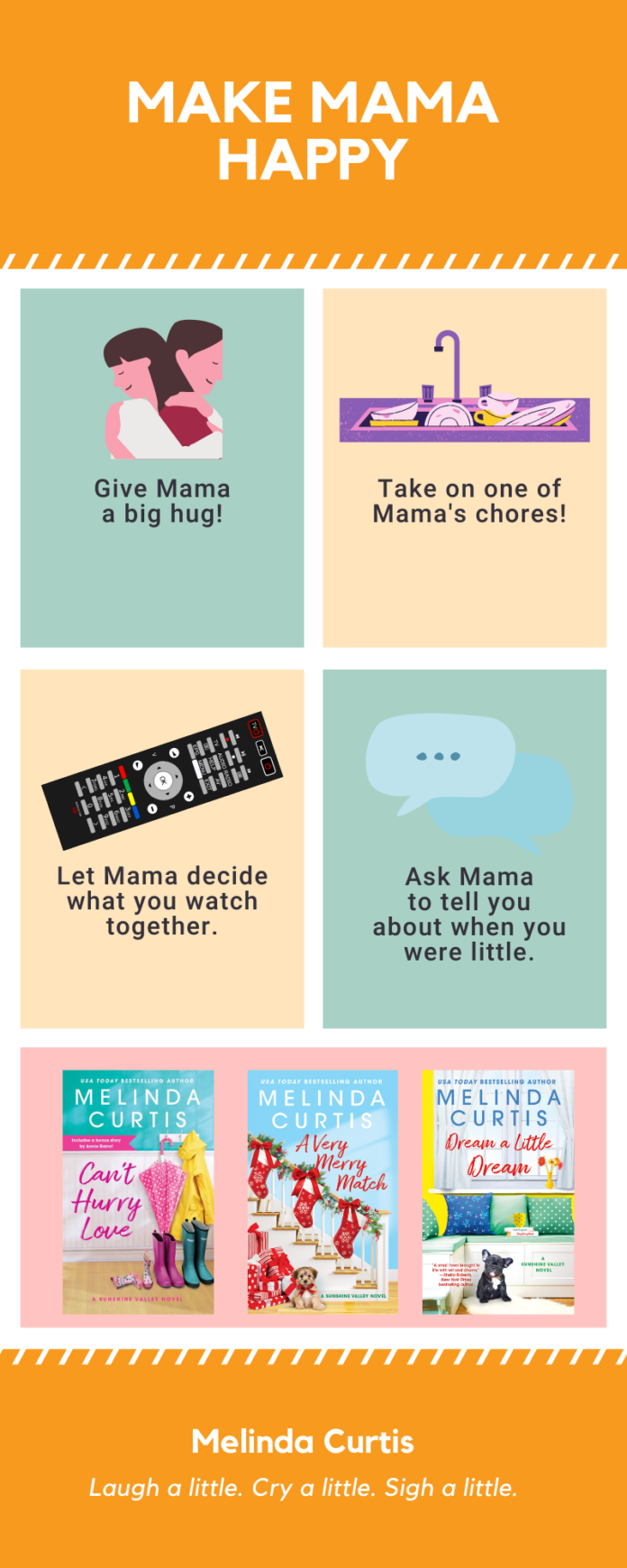 Four Ways to Make Your Mama Happy this Mother's Day by Melinda Curtis
Let's face it. We live in a gift culture. But speaking as a mama, there comes a point where you'd rather have a visit than a gift, a card, or flowers (although those are nice, too – lol). Here are four ways you can make your mama happy this Mother's Day without spending a dime.
Give her a hug. Did you know that science has proven that a 20 second hug has great health benefits? Make Mama healthy!
Take on one of Mom's chores. There's a lovely Christmas commercial for Hobby Lobby where a nurse's teenage son cleans house, does the laundry and trades in his old game controller to buy Christmas decorations. Priceless!
Hand over the remote. Sit down and watch one of Mama's favorites with her, be it a movie or an episode of her guilty pleasure. You may not know this, but she's dying to talk about the latest episode of Sweet Magnolias with someone. Anyone. You.
Reminisce. Ask Mama about anything from your past – how pointy your head was when you were born, if you cried the first time you sat on Santa's lap, about the first time you drove her anywhere… You get the idea.
So, if you're feeling like changing things up this Mother's Day, give the gift of your company. Go ahead and splurge by gifting her with all four items above.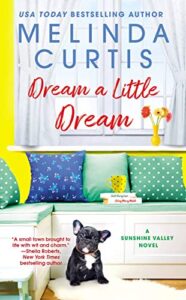 Here's a look at Melinda's latest release DREAM A LITTLE DREAM:
A small-town judge meets her match in a rodeo star troublemaker, but soon they may both end up targets of the town's matchmakers in this delightful and heartwarming tale of romance.
Darcy Jones Harper is thrilled to have finally shed her reputation as the girl from the wrong side of the tracks. The people of Sunshine Valley have to respect her now that she's the new town judge. But when the bad boy who broke her heart back in high school shows up in her courtroom, she realizes maybe things haven't changed so much after all . . . because her pulse still races at the sight of him.
Jason Petrie wants to make amends for the mistakes of his youth—starting with the woman he never stopped loving. Darcy may not believe that he really intends to quit the bull riding circuit and stick around this time but Jason vows—with the help of the matchmaking Widows Club—to pull out all the stops to convince her that they both deserve a second chance.
ABOUT THE AUTHOR: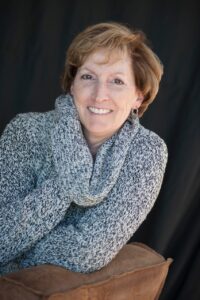 Melinda Curtis is the USA Today bestselling author of light‐hearted contemporary romance. She's published independently, with Arc Manor, Forever Romance and with Harlequin Heartwarming, including her book Dandelion Wishes, which was made into a TV movie entitled Love in Harmony Valley. She lives in Oregon's lush Willamette Valley with her husband – her basketball-playing college sweetheart. She has three children who she hope read this blog post.