A Second Chance Romance in the Florida Keys with author Priscilla Oliveras
Priscilla Oliveras, a USA Today bestselling author and 2018 RWA® RITA® double finalist, writes contemporary romance with a Latinx flavor.
Her works earned praise from O, The Oprah Magazine, Entertainment Weekly, Publishers Weekly, and Booklist among others.
She earned an MFA in Writing Popular Fiction from Seton Hill University and teaches the online class "Romance Writing" for ed2go.
Priscilla's also a sports fan, beach lover, and Zumba aficionado, who often practices the art of napping in her backyard hammock.
Get her latest book Anchored Hearts and her upcoming release, Summer in the City, is out May 25th.
Follow her at her website, Facebook, Twitter and Instagram.
HERE'S A LOOK AT HER LATEST RELEASE: ANCHORED HEARTS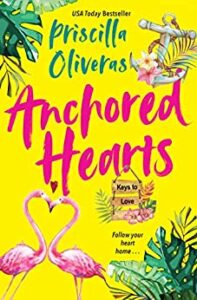 Key West is the ideal backdrop for the summer read you need! Perfect for fans of Abby Jimenez, Jasmine Guillory, and Jen DeLuca, this gorgeous and stirring new love story from the author of Island Affair will touch your heart…
 
Award-winning photographer Alejandro Miranda hasn't been home to Key West in years—not since he left to explore broader horizons with his papi's warning "never to come back" echoing in his ears. He wouldn't be heading there now if it wasn't for an injury requiring months of recuperation. The drama of a prodigal son returning to his familia and their beloved Cuban restaurant is bad enough, but coming home to the island paradise also means coming face to face with the girl he left behind—the one who was supposed to be by his side all along . . .
Anamaría Navarro was shattered when Alejandro took off without her. Traveling the world was their plan, not just his. But after her father's heart attack, there was no way she could leave—not even for the man she loved. Now ensconced in the family trade as a firefighter and paramedic, with a side hustle as a personal trainer, Anamaría is dismayed that just the sight of Alejandro is enough to rekindle the flame she's worked years to put out. And as famillia meddling pushes them together, the heat of their attraction only climbs higher. Can they learn to trust again, before the Key West sun sets on their chance at happiness?