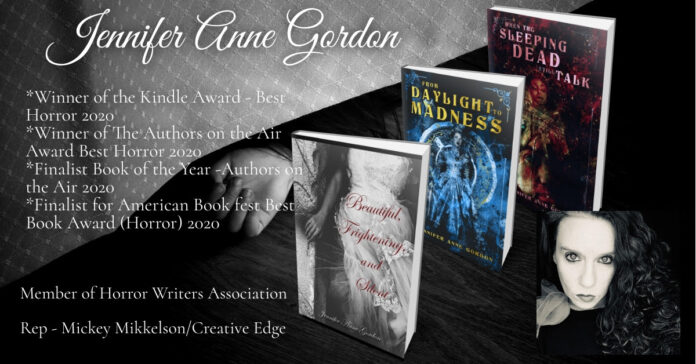 Special Feature — Celebrating Father's Day with Authors!
WHAT MY FATHER TAUGHT ME BY JENNIFER ANNE GORDON
This question, it's a loaded one. One the surface I could say my father taught me how to plant carrots, catch a baseball, and always find the best grocery bargains. I could also say that my father taught me how to keep my emotions in. He taught me to be strong but silent. Are these good things? It's hard to tell.
I was a daddy's girl. That is certain. I was always striving for his approval, his love, his affection. He was the type of man that would not say I love you back to you after you said it to him. I do know he loved me. He taught me that "love" is a word, but it's also a feeling. He taught me that feeling.
He passed away when I was in my twenties, it a slow long process. Watching someone actively dying for years. My father taught me how to grieve. He taught me that it was a process, that grief can take on a life of its own.  Grief, as I felt it, as I still feel it has become a driving factor in my work. Yes, I am known as a literary horror writer, or the writer of quiet horror—but at the core of every story I have written, there is grief. There is my father.
I have spent much of the last year studying grief writing with the incredible novelist and teacher Diane Zinna, and through her class I have started to see what all was there along, that perhaps my father is the one who taught me how to write. Perhaps he taught me to breathe.
So, I am including a very short essay I wrote, in honor of my father, and in honor of me—
Grief Lives in My Body
Constricted airflow, I run like a slow lumbering ox in gym class, and every time we have to run the mile, I end up sick on the side, kids passing me without a care.  I can never finish this almost impossible task. This 30% of my grade is a zero.
I can't breathe, and maybe I would never breathe again. It's hard to say, these are my memories from here on the side of the gymnasium.
My asthma was diagnosed when I was ten. It was the same year my father was taken from our house in the middle of the night, barely able to breathe.
I woke up with a neighbor's eldest daughter sitting in my living room, bored, flipping through a fashion magazine.  Barbazon model bored.
She said, "your father couldn't breathe."
I didn't understand this could happen while I was sleeping, that the thin paper of my life could be ripped in two.
It was a blood clot, his lungs long unmedicated were already pre-cancer sick. They diagnosed asthma for him as well. Sent him home with an inhaler he never used. He kept smoking. Two packs of Pall Mall's every day.
Then they said asthma for me too.
How was this the same disease?
His asthma turned to COPD and then turned to cancer. Like apples on a tree, and then the ground, asthma was ripe, then weak, then moldy and decay. Asthma was lung cancer's foreplay.
He died slow, like a blues song, he died slow like a long-winded story told without breath.
My lungs are his lungs, and the bottoms of them are a murky pond. You never want to put your feet on the bottom. You don't know what lives there.
He died on C ward in a catholic hospital that watched over our town.
A year after he died, I was admitted to the same hospital. My room was across the hall from his death room. I had lung failure and I was only in my twenties. My grief a fist, it's his fist. Those fists are in my lungs, like rocks in a pocket. They are heavy and personal.
My grief is breath. My father's and mine.
Jennifer Anne Gordon is a gothic horror/literary fiction novelist. Her work includes Beautiful, Frightening and Silent which won the Kindle Award for Best Horror/Suspense for 2020, Won Best Horror 2020 from Authors on the Air, was a Finalist for American Book Fest's Best Book Award- Horror, 2020. It also received the Platinum 5 Star Review from Reader's Choice as well as the Gold Seal from Book View.  Her second Novel, From Daylight to Madness (The Hotel book 1) received the Gold Seal from Book View, as well as The Platinum Seal from Reader's Favorite, her third novel When the Sleeping Dead Still Talk (The Hotel book 2) Was published in late 2020.
Her latest novel Pretty/Ugly is being released on July 13, 2021
Jennifer also had a collection of her artwork published Victoriana: The Mixed Media Art of Jennifer Gordon.
Jennifer is one of the hosts as well as the creator of Vox Vomitus, a video podcast on the Global Authors on the Air Network, as well as a Co-Host of the podcast Writers Showcase.  As a podcast host Jennifer has interviewed authors such as V.C Andrews, James Rollins, Paul Tremblay, Sarah Langan, Mary Burton, Josh Malerman, Carol Goodman, Paula Munier, Wendy Webb, and Matt Ruff. She had been a contributor to Ladies of Horror Fiction, Horror Tree, Writers After Dark, Reader's Entertainment Magazine, Nerd Daily, and Ginger Nuts of Horror.
She is a member of the Horror Writers Association where she sits on one of the juries for the Bram Stoker Awards. She is also a member of New England Horror Writers and sits on the committee for the New England Crime Bake festival.
Jennifer is a pale curly haired ginger, obsessed with horror, ghosts, abandoned buildings, and her dog "Lord Tubby".
She graduated from the New Hampshire Institute of Art, where she studied Acting. She also studied at the University of New Hampshire with a concentration in Art History and English.
She has made her living as an actress, a magician's assistant, a "gallerina", a comic book dealer, a painter, and burlesque performer and for the past 10 years as an award-winning professional ballroom dancer, performer, instructor, and choreographer.
When not scribbling away (ok, typing frantically) she enjoys traveling with her husband and dance partner, teaching her dog ridiculous tricks (like 'give me a kiss' and 'what hand is the treat in?' ok these are not great tricks.) as well as taking photos of abandoned buildings and haunted locations.
She is a leo, so at the end of the day she just thinks about her hair.
For more information and benevolent stalking, please visit her website at http://www.JenniferAnneGordon.com
For media and interview requests please contact Mickey Mikkelson at Creative Edge Publicity – mickey.creativeedge@gmail.com
Literary Rep – Paula Munier at Talcott Notch – pmunier@talcottnotch.net
Facebook Author Page – https://www.facebook.com/JenniferAnneGordonAuthor/
Instagram – https://www.instagram.com/jennifergenevievegordon/
Twitter – https://twitter.com/JenniferAnneGo5