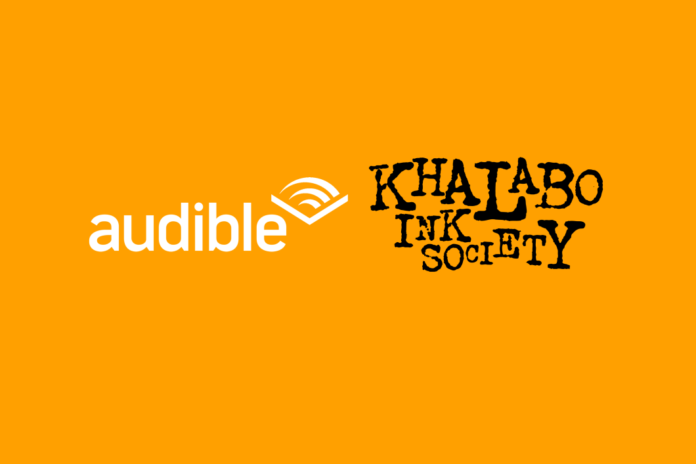 Kenya Barris' Khalabo Ink Society Strikes Exclusive Deal with Audible
Audible today announced an exclusive worldwide multi-project development deal with award-winning multi-hyphenate Kenya Barris and his production company, Khalabo Ink Society. Projects from the collaboration will range across genres including original scripted multi-cast fiction, unscripted nonfiction, audio-documentary, and journalistic audio. Further expanding its creative footprint, Khalabo Ink Society has also launched a dedicated audio content division in support of the prolific deal. Working alongside Founder/CEO Barris, the audio content team will be led by Head of Audio Production, Gila "WeezyWTF" Shlomi.
Zola Mashariki, Head of Audible Studios, commented: "Audible is honored and ecstatic to collaborate with Kenya Barris and his team at Khalabo Ink Society through this vast collaboration. Consistently pushing the creative envelope, Kenya is a world class creator who has the deft ability to address complex issues with fearlessness, depth and levity. His brilliant approach to storytelling will resonate widely and we simply can't wait to share it with our global audience."
Barris commented, "Audio is a space that I've been eager to explore and I'm beyond excited to be working with Audible as we expand Khalabo's storytelling in this way. As a creator, the purpose of art has always been about starting conversations and I cannot wait to share new stories and ideas through audio, where conversation is the art."
This deal follows Audible's recently announced production and development deals with top industry creatives such as Team Coco, Steph Curry's Unanimous Media, Kevin Hart's HartBeat Productions, Charlamagne tha God's CTHA World Productions, Treefort Media, Topic Studios and The SpringHill Company, founded by LeBron James and Maverick Carter. Projects produced via this new exclusive deal will join a series of best-in-class Audible Originals including recent releases like the #1 New York Times best-selling audio fiction The Sandman from Neil Gaiman, performed by James McAvoy, Kat Dennings and Michael Sheen, Jesse Eisenberg's When You Finish Saving the World, The Pursuit of Healthiness with Blake Griffin, A Total Switch Show created in collaboration with Team Coco and performed by Zoey Deutch, Lea Thompson, Bradley Whitford and a full cast, Broadway Video's Hit Job performed Keke Palmer and Pete Davidson, Russell Brand's Revelation, Beginner's Mind written and performed by Yo-Yo Ma, the upcoming second season of Letters from Camp, produced and performed by Jamie Lee Curtis, James Patterson's The Coldest Case starring Aaron Paul, among many more.
ABOUT KHALABO INK SOCIETY Founded by award-winning writer, producer and director Kenya Barris (Founder & CEO), Khalabo Ink Society is a full-service creative collective that produces content across an array of mediums, including: television, film, audio, music and digital properties. With a focus on socially conscious storytelling that reflects our culture and tackles contemporary issues and themes, Barris and Khalabo Ink Society's work has earned praise for telling poignant, powerful stories that make audiences more aware of the world around them while simultaneously making them laugh. With mentorship as a pillar of its storytelling process, Khalabo Ink Society has established itself as a creative force that fosters collaboration, allowing new talent and fresh voices to thrive.
Continuing to build its creative footprint, Khalabo Ink Society has expanded its work across genres and into other mediums of storytelling. The company has several projects currently in production, including: Entergalatic, a first-of-its-kind adult animated music series based on Grammy Award-winning artist Kid Cudi's upcoming album of the same name; a documentary feature about the life and career of groundbreaking civil rights attorney Ben Crump; a reboot of the family comedy Cheaper By The Dozen starring Gabrielle Union and Zach Braff; and Blood Brothers, a documentary feature exploring the extraordinary friendship between Malcolm X and Muhammad Ali. Additionally, the company has several high-profile projects at various stages of development, which include a comedy feature co-written by Barris and Jonah Hill, with Barris set to direct and Hill attached to star; a film about comedic icon Richard Pryor that Barris' will write, direct and produce; the series adaptation of the best-selling novel from 50 Cent and Robert Greene The 50th Law; an animated movie inspired by the songs and music of Bob Marley; a remake of the classic sports comedy White Men Can't Jump, and a feature-length musical about Juneteenth with Pharrell Williams, among others.
Among Khalabo Ink Society's current and recent series are the Netflix original comedy #BlackAF, the variety sketch show Astronomy Club, and the multi-series "-ish" franchise, which includes the flagship Peabody Award-winning sitcom black-ish and spin-off series Grown-ish, Mixed-ish and the recently green-lit Old-ish. Equally busy on the feature film side, Barris' most recent release was Coming 2 America, the highly anticipated sequel to John Landis' 1980s classic starring Eddie Murphy, which shattered viewership records when it debuted on Amazon Prime Video earlier this year; even earning the streamer its first number 1 finish on the Nielsen weekly streaming charts. Barris' past film credits also include Girls Trip, The Witches, Shaft, Little and Barbershop 3: The Next Cut. Barris is also the co-creator of the successful reality competition series America's Next Top Model, which has since been syndicated in 49 countries with 21 internationally formatted offshoots.