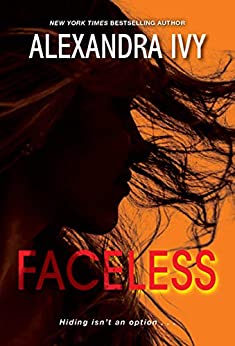 FACELESS BY ALEXANDRA IVY
BE CAREFUL
A masked robber, a gunshot, an endless nightmare left in its wake. Wynter Moore was just four years-old when she witnessed the murder of her mother. For twenty-five years she's tried to blunt the trauma with ambition. Yet each year, she shuts down her popular Iowa restaurant to return to her small hometown of Pike, Wisconsin, to grieve. Only this time, her visit will be marked by new danger and shocking discoveries about the past—and about her mother.
WHAT YOU DIG FOR
Why kill her? That's what scrawled on the picture Pike's recently deceased sheriff left behind for Wynter. Pulled from surveillance tape, it shows the fatal hold-up—and raises unnerving questions. Soon, Wynter is opening a Pandora's box of dark revelations and suspects. When frightening incidents and threats start coming, it's clear that Wynter is a target herself. Enemies seem to abound—except for one man…
YOU JUST MIGHT GET KILLED
Game warden Noah Hunter has tried to convince himself that Wynter is just a friend ever since they met in grief counseling as teenagers. But now that she's in danger, that denial is over. Traveling to her side, he helps Wynter retrace the treacherous steps of her complex mother's life—before she loses her own. Because someone wants—needs—Wynter gone, forever.