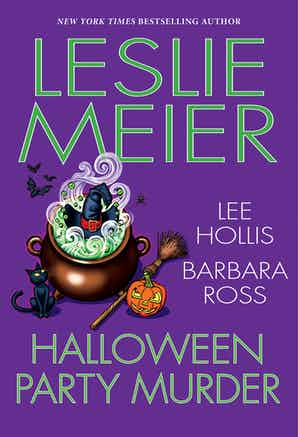 Small town traditions are celebrated throughout Maine during the holiday season. But when it comes to Halloween, some people are more than willing to reap a harvest of murder…
HALLOWEEN PARTY MURDER by LESLIE MEIER
Tinker's Cove newest residents Ty and Heather Moon turn their Victorian home into a haunted house to raise funds for charity. But the Halloween fun turns to horrific fright when Heather overdoses on tainted drugs–and Ty finds himself accused of murder. Digging deep into the story, journalist Lucy Stone uncovers some sinister secrets in the Moons' past linked to a conspiracy in her hometown…
DEATH OF A HALLOWEEN PARTY MONSTER by LEE HOLLIS
Everyone attending Island Times Food and Cocktail columnist Hayley Powell's Halloween bash is dressed as their favorite movie monster from the Bride of Frankenstein and Jaws to Chucky and Pennywise the clown. But when partygoers stumble upon Boris Candy's bludgeoned costumed corpse, it falls to Hayley to discover who among her guests wanted to stop the man from clowning around permanently…
SCARED OFF by BARBARA ROSS
Three teenage girls having a sleepover on Halloween night get spooked when high schoolers crash the house for a party. But no one expected to find a crasher like Mrs. Zelisko, the elderly third floor tenant, dead in the backyard–dressed in a sheet like a ghost. With her niece traumatized, Julia Snowden must uncover who among the uninvited guests was responsible for devising such a murderous trick…
AVAILABLE AT THESE RETAILERS:
Be My Ghost — A Haunted Haven Mystery #1
by Carol J. Perry
Maureen Doherty and her golden retriever Finn have taken possession of a charming old inn—only to discover that it's already possessed by tenants whose lease on life already ran out . . .
Maureen's career as a sportswear buyer hits a snag just before Halloween, when the department store declares bankruptcy. Meanwhile, Finn's lost his way as a guide dog after flunking his test for being too friendly and easily distracted. Sadly, only one of them can earn unemployment, so Maureen's facing a winter of discontent in Boston–when she realizes she can't afford her apartment.
Salvation comes when she receives a mysterious inheritance: an inn in Haven, Florida. A quaint, scenic town on the Gulf of Mexico hidden away from the theme parks, Maureen believes it's a good place to make a fresh start with a new business venture. But she gets more than she bargained for when she finds a dead body on her property–and meets some of the inn's everlasting tenants in the form of ghosts who offer their otherworldly talents in order to help her solve the mystery…
AVAILABLE AT THESE RETAILERS:
Murder Most Fair — A Verity Kent Mystery #5
by Anna Lee Huber
All is far from quiet on the home front in national bestselling author Anna Lee Huber's captivating mystery series, in which former Secret Service agent Verity Kent receives a visitor–who is being trailed by a killer…
November 1919. A relaxing few weeks by the seaside with her husband, Sidney, could almost convince Verity Kent that life has returned to the pleasant rhythm of pre-war days. Then Verity's beloved Great-Aunt Ilse lands on their doorstep. After years in war-ravaged Germany, Ilse has returned to England to repair her fragile health–and to escape trouble. Someone has been sending her anonymous threats, and Verity's Secret Service contacts can only provide unsettling answers.
Even deep in the Yorkshire Dales, where she joins Verity's family for the holidays, Ilse encounters difficulties. Normally peaceful neighbors are hostile, seeking someone to blame for the losses they've endured. When Ilse's maid is found dead, Verity must uncover whether this is anti-German sentiment taken to murderous lengths, or whether there is a more personal motive at work. Could Verity's shadowy nemesis, Lord Ardmore, be involved? And if so, how much closer to home will the blow land when he inevitably strikes again?
AVAILABLE AT THESE RETAILERS: