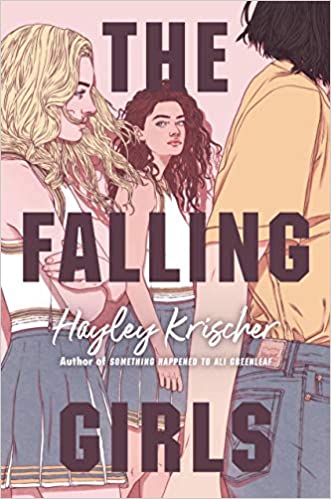 THE FALLING GIRLS BY HAYLEY KRISCHER
Shade and Jadis are everything to each other. They share clothes, toothbrushes, and even matching stick-and-poke tattoos. So when Shade unexpectedly joins the cheerleading team, Jadis can hardly recognize who her best friend is becoming.
Shade loves the idea of falling into a group of girls; she loves the discipline it takes to push her body to the limits alongside these athletes . Most of all, Shade finds herself drawn to The Three Chloes–the insufferable trio that rules the squad–including the enigmatic cheer captain whose dark side is as compelling as it is alarming.
Jadis won't give Shade up so easily, though, and the pull between her old best friend and her new teammates takes a toll on Shade as she tries to forge her own path. So when one of the cheerleaders dies under mysterious circumstances, Shade is determined to get to the bottom of her death. Because she knows Jadis–and if her friend is responsible, doesn't that mean she is, too?
Buy links
Amazon: https://www.amazon.com/Falling-Girls-Hayley-Krischer-ebook/dp/B08W2Z78YH/ref=sr_1_3?dchild=1&keywords=the+falling+girls&qid=1627419264&s=digital-text&sr=1-3
Indiebound: https://www.indiebound.org/book/9780593114148
Barnes & Noble: https://www.barnesandnoble.com/w/the-falling-girls-hayley-krischer/1138772318?ean=9780593114148
Bookshop: https://bookshop.org/books/the-falling-girls/9780593114148
ABOUT THE AUTHOR:
Hayley Krischer is a writer and journalist. She is a regular contributor to The New York Times, where she covers women, teenage girls, celebrities, and cultural trends. Her work has also appeared in Marie Claire,The Atlantic, The New York Times Magazine, and more. Hayley is also the author of Something Happened to Ali Greenleaf. She lives in Glen Ridge, New Jersey, with her husband, two kids, one dog, and three cats.
Website: https://www.hayleykrischer.net/
Instagram: @hayleykrischer
Facebook: @hayleykrischer
Twitter: @hayleykrischer