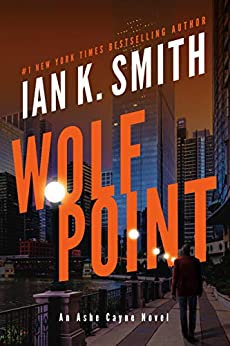 WOLF POINT BY Ian K. Smith
A Cadillac, a pistol, and a corpse make for another morning in Chicago. The body belongs to Walter Griffin, a prominent Black Chicagoan insider hailing from the city's West Side. He ascended to the upper echelons of the mayor's office only to meet his end in a watery grave at Wolf Point. Forensics finds his prints on the gun; it's ruled a suicide.
But grizzled private investigator Ashe Cayne knows better.
Griffin's children plead with a reluctant Ashe to hunt their father's killer. They know their dad wouldn't have taken his own life without a goodbye. And Ashe knows this town's dark secrets often mean murder is not too far away.
Ashe decides to take on the case and navigate a city rotting with corruption, racial tensions, and sketchy backroom deals. On the bleak streets of Chicago, it's every man for himself—and that makes everyone a suspect.
Buy links
Amazon: https://www.amazon.com/Wolf-Point-Ashe-Cayne-Book-ebook/dp/B08F563X3D/ref=sr_1_1?dchild=1&keywords=wolf+point&qid=1627077566&s=books&sr=1-1
Indiebound: https://www.indiebound.org/book/9781542027861
Barnes & Noble: https://www.barnesandnoble.com/w/wolf-point-ian-k-smith/1137820890?ean=9781542022712
Bookshop: https://bookshop.org/books/wolf-point-9781713563105/9781542027861
ABOUT THE AUTHOR:
Dr. Ian Smith is the author of the #1 New York Times bestselling books, SHRED: THE REVOLUTIONARY DIET, SUPER SHRED: The Big Results Diet, BLAST THE SUGAR OUT, The Clean 20, THE ANCIENT NINE, CLEAN & LEAN and eleven other books with millions of copies in print. His newest novel–THE UNSPOKEN, the first installment of his Ashe Cayne mystery series, is now available. Look for his next revolutionary diet plan FAST BURN!, on sale April 13, 2021.
He currently hosted the nationally syndicated, Emmy award-winning television show
THE DOCTORS, and is a longtime medical contributor to Emmy award-winning The Rachael Ray Show.
He also served as the medical/diet expert for six seasons on VH1's highly-rated Celebrity Fit Club. He is the creator and founder of the national health initiatives The 50 Million Pound Challenge and The Makeover Mile. Dr. Smith is the former medical correspondent for NBC News Network and NewsChannel 4 in New York, where he filed reports for NBC Nightly News and The Today Show as well as WNBC's various news broadcasts. He has appeared extensively on numerous broadcasts, including The Oprah Winfrey Show, The View, Dr. Oz, Steve Harvey Show, The Talk, Larry King Live, Anderson Cooper 360, CNN, MSNBC, and many more. He has written for various publications including Time, Newsweek, Men's Fitness, and the New York Daily News. He has been featured in several other publications including, People, Redbook, Details Magazine, Essence, Ebony, Cosmopolitan, and Black Enterprise.
A highly sought-after speaker, Dr. Smith's work has been honored by several organizations, including the National Academy of Television Arts & Sciences for his coverage on the momentous events of September 11th, 2001. He is also very active in charitable causes. Dr. Smith has also served on the boards of the American Council on Exercise, the New York Mission Society, the Prevent Cancer Foundation, The New York Council for the Humanities, and The Maya Angelou Center for Health Equity.
Dr. Smith graduated from Harvard College with an AB and received a master's in science education from Teachers College of Columbia University. He attended Dartmouth Medical School and completed the last two years of his medical education and graduated from the University of Chicago Pritzker School of Medicine.
Social media links
Website: https://doctoriansmith.com/
Instagram: @doctoriansmith
Facebook: https://www.facebook.com/Dr.IanKSmith
Twitter: @DrIanSmith