Murder at the Christmas Cookie Bake-Off – A Beacon Bakeshop Mystery #2
by Darci Hannah
Tucked away inside an old lighthouse in Beacon Harbor, Michigan, bakeshop café owner Lindsey Bakewell is ready to make her first Christmas in town shine bright. But her merry plans crumble fast when murder appears under the mistletoe…

With the spirit of the holidays wafting through the Beacon Bakeshop, Lindsey thinks she has the recipe for the sweetest Christmas ever—winning the town-wide cookie bake-off. Unfortunately, striving for a picture-perfect December in Beacon Harbor is a lot like biting into stale shortbread. Low on staff and bombarded by visits from family, Lindsey can barely meet demands at work, let alone summon the confidence to face fierce competition…
Self-appointed Christmas know-it-all Felicity Stewart is determined to take the top spot in the bake‑off, and she's not afraid to dump a little coal in everyone's stocking to do it. Just as the competition heats up, everything falls apart when the judge is found dead—and covered in crumbs from Lindsey's signature cookie!
Solving a murder was never on Lindsey's wish list. But with her reputation on the line during the happiest time of the year, she'll need to bring her best talents to the table in order to sift out the true Christmas Cookie culprit.
Grab a copy at these retailers: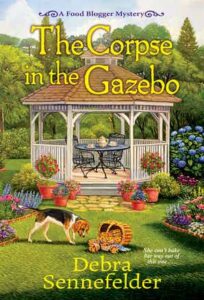 The Corpse in the Gazebo — A Food Blogger Mystery #5
by Debra Sennefelder
Food blogging is turning Hope Early into a household name. But the dead body down the block makes her a #1 suspect…
It seems everyone loves Hope's blog these days, and she's busier than ever volunteering to help other women create their own paths to success. So she's shocked when a neighbor petitions to run Hope right out of her small Connecticut town! Set in her ways, apparently Birdie Donovan doesn't like the chaos Hope's sleuthing creates, the police activity and crime scenes, and it's happening way too often lately. Eager to make amends, Hope bakes Birdie a batch of her best muffins. The delicious treats might have smoothed things over—until Hope discovers Birdie dead in her gazebo the very next day…
Now instead of worrying about holding on to her beloved home, Hope is trying to stay out of jail. Because suddenly she's the lead suspect in the case. Not even her boyfriend, Police Chief Ethan Cahill, is promising he can clear her name, much less discuss the investigation with her. It's up to Hope to get to bake new ground on the case before the lifestyle brand she's created—and her whole life—crumbles…
Grab a copy at these retailers: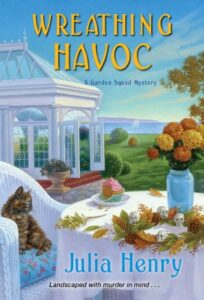 Wreathing Havoc — A Garden Squad Mystery #4
by Julia Henry
There's nothing like autumn in picturesque Goosebush, Massachusetts, but beneath the season's sun-dappled foliage, Lilly Jayne and her Garden Squad must investigate a shadowy murder mystery after a theater owner's sudden death sows as much drama behind the scenes as on any stage…
Lilly Jayne typically spends the harvest season baking festive pies and crafting colorful wreaths to enter in the library's annual fundraising contest. But this year, autumn opens on a somber note when beloved local theater owner, Leon Tompkin, dies unexpectedly. His memorial sets the scene for a mini reunion of The Goosebush Players' best and brightest alumni, including Hollywood star, Jeremy Nolan…until someone plucks Jeremy from the spotlight, permanently.
Now, as dedicated theater volunteer, Scooter McGee, falls under suspicion, Lilly and her Garden Squad must spring into action. They quickly discover a cornucopia of potential suspects in Jeremy's murder. Was it an embittered ex…or a jilted lover? A rival thespian…or an overly ambitious artist? Lilly rakes through the piles of clues, but if she doesn't uncover the real killer soon, more than autumn leaves will be dropping in Goosebush…
Grab a copy at these retailers: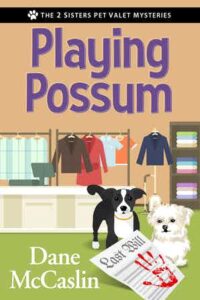 Playing Possum — The 2 Sisters Pet Valet Mysteries #3
by Dane McCaslin
The 2 Sisters Pet Valet Service is purring along, thanks to the entrepreneurial talents of retired schoolteacher Gwen Franklin and her bestie and business partner, Nora Goldstein. But when the fur starts to fly, they become partners in crime detecting as well . . .
At Nora's request, Gwen is happy to accompany her to a meeting with ex-hubby #3's lawyer. Much to Nora's surprise—and dismay—she's been named executor of said ex's will. The fact that the man has been missing for years and was just declared legally dead only makes an already complicated process more so. And besides, is he really dead? What's not a surprise is that Nora's twin ex-stepchildren are pressing for access to their father's dry cleaning fortune . . .
With Gwen's assist, it's time for Nora to do a little digging. It turns out that the twins' catering business is failing—and that their dad's business was laundering more than clothing. Soon, Gwen and Nora are infiltrating a long list of dirty deeds, including fraud and illegal gains. And the perpetrators are all too close to home. The police may want Gwen and Nora to stick to their own line of work, but the pair are determined to make sure the truth comes out in the wash—before someone ends up in the discard bin . . .
Grab a copy at these retailers: