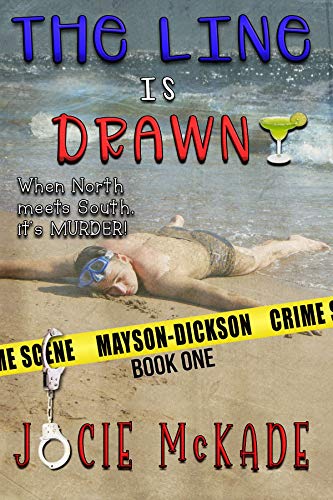 THE LINE IS DRAWN (A Mayson-Dickson Mystery) BY JOCIE MCKADE
Author Jocie McKade serves as a librarian and has chaired the local Veteran's Oral History Project, having been honored for her contributions for her non-fiction articles and stories. Her novels now number sixteen and include THE GRANITE ROSE, ROGUE LEAVES, volumes of short stories, her popular series THE THREE BAERS (three volumes), BETWEEN THE LINES (two volumes), and MAYSON-DICKSON MYSTERIES (four volumes) of which THE LINE IS DRAWN is the initial book.
Being the initial story of a projected mystery series, the author appreciates the need to capture her audience's attention with a powerful Prologue, and in this case the beam focused on the tension is strong: 'Moe Sheridan, Esq., fell to the floor unleashing an agonizing scream. His perfectly knotted bow tie sagged to one side and a quickly growing bloom of crimson blood covered his finely tailored shirt. The window overlooking the garden Emmaline Roberts had been admiring was blown into a million pieces across the wooden floor The cranky receptionist who had kept her waiting for nearly an hour bolted into the room with a pistol in her hands, shoving Emmaline and the woman named Jacqueline, to the floor. Somehow, the receptionist had morphed in seconds form the obnoxious, dowdy receptionist into the Black Widow from the Avengers…Emmaline is gut-punched with the news her father was some sort of government spook, then this Moe Sheridan informs her that she has a sister a twin sister no less, who is now huddled beside her on the floor as bullets fly and Moe bleeds to death…' That is a perfect way to introduce both the characters and the concept!
This fine mystery proceeds as follows: 'A secret twin sister? Who knew? Emme Mayson and Jackie Dickson discover they are twins, just before an assassin's bullet kills the only man who knows everything. Whisked away to an "off-the-books" witness protection program. With the aid of a wanted hacker, and another pitcher of margaritas, Emma and Jackie are determined to discover the truth about their parents' secret past and why they were separated into North and South….Was it bad enough to have a man murdered to keep that secret? Murder, mystery and family fuel the fire between two sisters so different the only thing keeping them from starting another war between the states is the need to solve the case, get their answers and stay alive.'
Jocie McKade is a polished writer, able to relate a fast-paced mystery with enough wit and candor to completely immerse the reader into the strong, fascinating lives of newly discovered twins and the impact that factor has on solving puzzles of relationships, family history, and murder! This is a perfectly tuned initial episode of a series that promised to be both spellbinding and entertaining. Highly recommended.