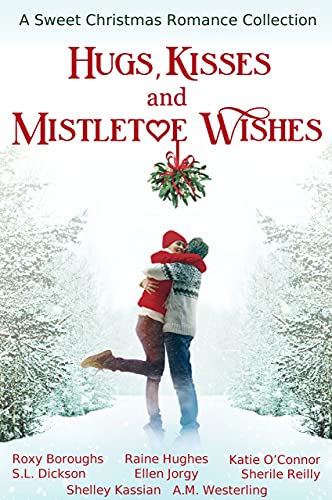 HUGS, KISSES AND MISTLETOE WISHES BY Katie O'Connor  Shelley Kassian, Sherile Reilly, Roxy Borough, A.M. Westerling, Ellen Jorgy, S.L. Dickson, Raine Hughes  
This new collection of short stories falls into the everything-you want-to-feel category of romance stories set in the spirit of Christmas. Eight Canadian authors, all romance writers of note, took refuge during the pandemic and supported each other via Zoom meetings, pledging to bring some light and happiness to their fans. HUGS, KISSES AND MISTLETOE WISHES is the result – eight sweet romance stories that the age span of readers from teens to grandmothers will treasure.
As the authors state in the introduction, 'The collection is described as Straight from our hearts to yours, eight enchanting love stories to enjoy during the holiday season and all year long. Each contains a romantic "mistletoe moment," and an uplifting, happily-ever-after conclusion.' The authors are Roxy Burroughs, SL Dickson, Raine Hughes, Ellen Jorgy, Shelley Kassian, Katie O'Connor, Sherile Reilly, and AM Westerling.
Just a touch of how airy these stories can be shows in the initial Christmas Eve story – THE SPRITE BEFORE CHRISTMAS by Roxy Burroughs – a story that addresses an impending divorce but related in a manner that finds lightness: '…Divorce papers. Her name appeared on the document alongside her husband's. Her soon-to-be ex-husband, Noel. An appropriate name, since they first met during the Christmas season, some twelve years earlier. And everything about this time reminded Faith of him. The word 'Noël' popped up in lights on the sides o buildings throughout Seattle, where she worked, and Puyallup, the much smaller city to the south, where she lived. "Noël" appeared in glittery red lettering on Christmas cards. Heck, she'd spent years singing the word in various carols she helped write and perform…' Then into this atmosphere pops a wise-cracking sprite who provides a different stance and viewpoint.
That contagious spirit shines through each of these fine romances, variations on situations and people and relationships, but all with the consistent theme of valued Christmas spirit. In addition to the story mentioned, the other titles are In Time For Christmas, Safe In His Arms At Christmas, A Gentleman For Christmas, Gingerbread Dreams, A Wish Upon a Christmas Knight, and Evelyn's Beau. Each story is satisfying – and fine cuddle by the fire ideas. Recommended for all readers – women and men!