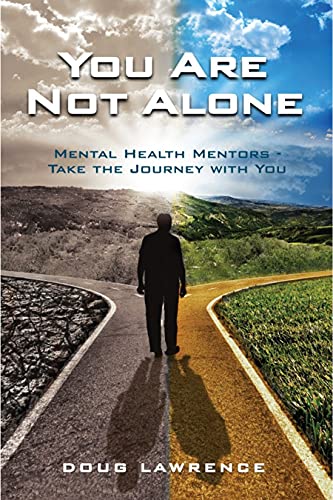 YOU ARE NOT ALONE
Mental Health Mentors – Take the Journey with you
A new insight of experience with Mentoring Expert
Doug Lawrence   
"You Are Not Alone" came from suggestions/recommendations that I write a book that speaks to how mentoring can bring value to the support structure for mental health. After a rather extensive review of the literature that is out there, I found that there was literature that looked at mentoring and mental health from an academic perspective but not from a practice perspective. That needed to change.
Writing this book providing me with the opportunity to confront some of my demons and to also better understand why I had behaved the way that I did. I realized that I had Post Traumatic Stress Disorder (PTSD) and that I had not treated it properly. I had relied on my spouse and two children to provide the support that I needed and yet they had their own trauma in dealing with my behaviour. This book will give you a glimpse into my own story which will help you understand the value that mentoring could have brought me.
"You Are Not Alone" provides you with some insight into the world of mentoring and mental health. I hope that you come to the same conclusion that I did. There is truly a place for mentoring as part of the support structure for mental health. The benefits are many and include; reduced sick time in the organization, engaged employees, less turn over, less stress and anxiety, to name but a few.
I have learned so much in writing this book for you. I sincerely hope that you get the same value that I did and that together we can become part of the support structure and walk beside people that are beginning their healing journey.

Amazon.ca:  You Are Not Alone: Lawrence, Doug: 9780578995076: Books – Amazon.ca
Amazon.com:  Amazon.com: You Are Not Alone eBook : Lawrence, Doug : Kindle Store
A MESSAGE FROM DOUG LAWRENCE:
I am honored and humbled to be able to share some of my experiences as an effective mentor with you. Effective mentoring is a life long journey of learning and developing personally and professionally. I hope that you will grow as much as I have with the guidance provided through the "Gift of Mentoring".
Amazon.ca Buy Link: https://www.amazon.ca/Gift-Mentoring-Lawrence-Doug-ebook/dp/B0147WVG6I
Amazon.com Buy Link: Amazon.com: Gift of Mentoring eBook: Doug, Lawrence, Emily Hunter: Kindle Store (amzn.to)
ABOUT THE AUTHOR:
Doug Lawrence is the founder of TalentC® and Co-founder of the International Mentor Community.
Doug leads organizations to experience the benefits how mentoring will encourage workforce culture to flow in harmony (mentors), improve productivity from employees (mentees), reducing costly employee onboarding improving the bottom line (organizations).
Doug is an International Certified Mentor, and has obtained his Certificate of Achievement – Mentoring and his Certificate of Competence – Mentor from the International Mentoring Community (IMC).  Doug is currently obtaining his Certificate of Competence – Journey Mentor.
Doug's Practice of Mentoring has resulted in his accumulation of 2,000 hours of mentoring (in person and virtual), 197 hours of speaking opportunities and 672 hours teaching others how to effectively mentor.