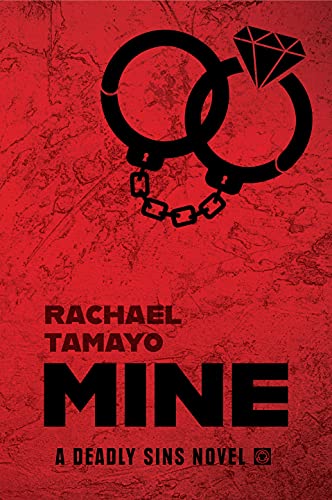 'Date, yes. Live with them, sure, why not? Marry, no thanks.' New characters, new horror
Texas author Rachel Tamayo composes dark tales and romances, and to date she has published nine novels – the FRIEND-ZONE Trilogy, CRAZY LOVE, ONCE UPON A KISS, LUCIFER'S GAME, BREAK MY BONES, CARNAL KNOWLEDGE, and now MINE, Book 3 of her successful Deadly Sins Series.
Creating credible characters for thrillers is a skill Rachel Tamayo owns, but she delves more deeply into her characters than most authors writing in this genre: she enters their mindset and is proficient at making them three dimensional – and psychologically aware. She opens this volume with a harrowing Prologue: 'I hang up the phone, clicking the End button with a finger that leaves a red smudge on my screen. They'll be here soon. I look around, just to be sure it's all where it needs to be. Everything seems to be in its place. An organized chaos of sorts, I suppose. Knowing I don't have much time… Standing in my bra and jeans, I use the wet washcloth I find in the sink to scrub the stain, groaning at my stupidity as I struggle to clean the satin top. I should have known. I wasn't thinking straight. The water runs red, just like it did when I washed my hands moments ago…' Rachel gradually invites us into a 911 call for a murder.
Employing the seduction of a breathless opening, Rachel launches her story: 'What happens in Vegas just might kill you. When divorcee Justin Gray wakes up next to a beautiful stranger in Vegas on his birthday weekend, he assumes it's just a drunken mistake. When he discovers that he's married to said stranger in her early twenties, he insists on an annulment and assumes his life will return to normal once he gets back home. He assumes wrong. As the shapely blonde refuses to give him an annulment and insists the marriage continue, what was a wild weekend turns into a deadly mistake. Murder is only the beginning.'
Rachel Tamayo has successfully scribed a dark, moody piece that defies the reader to put the story, once started, aside before the final page. Expect high anxiety levels while reading it, and keep the lights on once finished. Highly recommended.