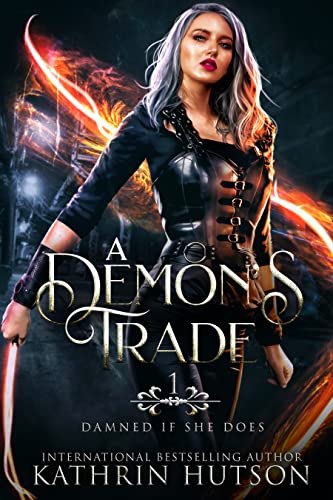 A Demon's Trade
The first in a brand-new Urban Fantasy series by International Bestselling Author Kathrin Hutson
Demons might not be real. But she is.
As a tracker of curse magic, dark artifacts, and forbidden netherwork, Kali Sullivan is one of a kind, and not just as a bounty hunter. They think she's a demon. What they don't know can definitely kill them—and worse.
It only takes one slip to throw a curse into utter chaos. So when an overconfident target gets himself killed before Kali can take him in, she's left to pick up the pieces. And to figure out which magical nutjob had the bright idea to start tattooing casting circles on their victims.
When staking out another dark-magic suspect reveals far more than who's behind the attacks on humans, the ghosts of Kali's past come calling in an unexpected way. Their messages give a whole new meaning to who and what she truly is, and it's darker than she thought. Especially when the one job Kali refused is the one she really should have taken.
Fans of Patricia Briggs and Kim Harrison will love this action-packed Urban Fantasy Adventure from International Bestselling Author Kathrin Hutson.
*The Damned If She Does series is set in the same universe as Kathrin Hutson's Accessory to Magic series.*
Amazon.com:  https://www.amazon.com/dp/B09JGSNF6D
Amazon.ca: https://www.amazon.ca/dp/B09JGSNF6D
ABOUT THE AUTHOR:
International Bestselling Author Kathrin Hutson has been writing Dark Fantasy, Sci-Fi, and LGBTQ Speculative Fiction since 2000. With her wildly messed-up heroes, excruciating circumstances, impossible decisions, and Happily Never Afters, she's a firm believer in piling on the intense action, showing a little character skin, and never skimping on violent means to bloody ends.
As a world traveler with her husband and daughter, Kathrin finds a home anywhere she can write, which she does full-time. She's also an active member of both the Science Fiction and Fantasy Writers of America and the Horror Writers Association.