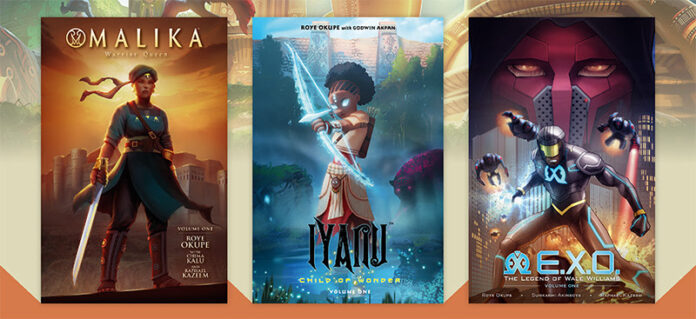 In honor of Black History Month, we've gathered recommendations of comics and graphic novels from our recent catalog, highlighting Black voices and creators, protagonists, and themes of representation, empowerment, and education.
YouNeek Studios: Enter the YouNeek YouNiverse!
YouNeek Studios, founded by Dwayne McDuffie nominee Roye Okupe, features a YouNiverse of superheroes based on African stories by African creators, influenced by African history, mythology, politics, and more. Dark Horse Comics is proud to partner with YouNeek Studios to help bring the YouNeek YouNiverse to a global audience. More details here >>
YouNeek Studios founder Roye Okupe says:
"For me, Black History as a Black creator in the publishing industry always takes me back to one of my most memorable moments as a writer. That moment was a parent telling me her daughter wanted to order a copy of my graphic novel, Malika: Warrior Queen, because the character on the cover 'looks like me,' she said. That is truly what matters when it comes to our work."
"Whether it's Malika: Warrior Queen, Iyanu: Child of Wonder, E.X.O.: The Legend of Wale Williams, WindMaker, or any of our other series, the goal remains the same: telling extraordinary stories about extraordinary characters inspired by African history, culture, and mythology. We do this with the ultimate goal of empowering African creatives and storytelling across the globe. For us, Black History Month is every month."
As of February 2022, several YouNeek titles are now available wherever comics and books are sold, with more on the way.
These include:
Malika: Warrior Queen Volume 1
Roye Okupe, Chima Kalu, Raphael Kazeem, Spoof Animation, Godwin Akpan
Iyanu: Child of Wonder Volume 1
Roye Okupe, Godwin Akpan
E.X.O.: The Legend of Wale Williams Volume 1
Roye Okupe, Sunkanmi Akinboye, Raphael Kazeem, Godwin Akpan
Malika: Warrior Queen Volume 2
Roye Okupe, Sunkanmi Akinboye, Etubi Onucheyo, Toyin "Morby" Ajetunmobi, Spoof Animation
Coming soon:
E.X.O.: The Legend of Wale Williams Volume 2, arriving March 2, 2022
Roye Okupe, Sunkanmi Akinboye, Etubi Onucheyo, Tarella Pablo, Spoof Animation, Godwin Akpan
WindMaker Volume 1, arriving April 20, 2022
Roye Okupe, Sunkanmi Akinboye, Toyin "Morby" Ajetunmobi, Godwin Akpan
All YouNeek books are suggested for ages 12-14+.
LaGuardia
By Nnedi Okorafor, Tana Ford, Sal Cipriano
Hugo and Eisner Award-Winner

"LaGuardia is unique, playful, heartbreaking, empowering and full of hope for the future. The wisdom Okorafor imparts in each panel pushes back against the darkest urges of our human nature and creates a space that lets us all live."
—John Jennings (The Blacker the Ink, Octavia Butler's Kindred graphic novel)
Written by Nnedi Okorafor, Hugo, Nebula and World Fantasy Award winner (Who Fears Death, Binti, Akata) and illustrated by Tana Ford (Silk, Duck!), with colors by Sal Cipriano, LaGuardia won the 2020 Eisner Award for Best Graphic Album – Reprint, and the Hugo Award for Best Graphic Story or Comic.
In 2022, Dark Horse and Berger Books present a new Deluxe Edition celebrating this award-winning comic, packed with extras including a chapter of Dr. Okorafor's script, a new cover and never-before-seen art from Ford, an extensive process art section, and more. LaGuardia is also available in a standard paperback edition.
Set in an alternative world where aliens have come to Earth and integrated with society, LaGuardia revolves around a pregnant Nigerian-American doctor, Future Nwafor Chukwuebuka, who has just returned to NYC under mysterious conditions via LaGuardia International and Interstellar Airport.
There, she and her sentient, plant-based alien friend become part of a growing population of mostly African and shape-shifting alien immigrants, battling against interrogation, discrimination and travel bans, as they try to make it in a new land. As the birth of her child nears, Future begins to change. What secret is she hiding?
LaGuardia is suggested for ages 16+.
Incognegro: A Graphic Mystery
Incognegro: Renaissance
Mat Johnson, Warren Pleece

"A talented writer of both fiction and creative non-fiction, Johnson's publications have established him as an important new voice in the African-American tradition." —Walter Mosley
Part of editor Karen Berger's imprint at Dark Horse, Berger Books, Dark Horse presents a 10th anniversary edition (2018) of Mat Johnson and Warren Pleece's outstanding original graphic novel Incognegro: A Graphic Mystery. This is followed by an original prequel series, Incognegro: Renaissance.
Incognegro: A Graphic Mystery follows Zane Pinchback, a reporter sent to investigate the arrest of his own brother, charged with the brutal murder of a white woman in Mississippi. With a lynch mob already swarming, Zane, whose skin color is light enough that he can pass for white, must stay "incognegro" long enough to uncover the truth behind the murder to save his brother and himself.
Suspenseful, unsettling and relevant, Incognegro is a tense graphic novel of shifting identities, forbidden passions, and secrets that run far deeper than skin color. Suggested for ages 14+.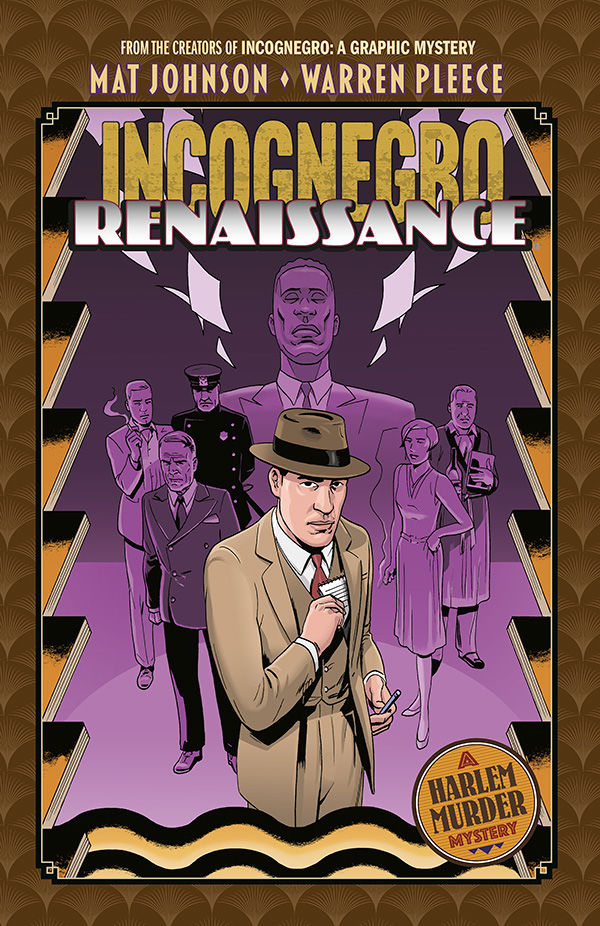 In the prequel series, Incognegro: Renaissance, a Black writer is found dead at a scandalous interracial party in 1920s New York and Harlem's cub reporter Zane Pinchback is the only one determined to solve the murder. Zane must go "incognegro" for the first time–using his light appearance to pass as a white man–to find the true killer.
A page-turning thriller of racial divide, Incognegro: Renaissance explores segregation, secrets, and self-image as our race-bending protagonist penetrates a world where he feels stranger than ever before.
Incognegro: Renaissance is suggested for ages 18+.
Muhammad Ali
Sibylle Titeux, Amazing Ameziane
This original graphic novel celebrates the life of the elite athlete who metamorphosed from Cassius Clay to become a three-time heavyweight boxing legend, activist, and provocateur: Muhammad Ali. The story also focuses on key figures in the Civil Rights movement.
Not only a titan in the world of sports but in the world itself, Ali dared to be different and to challenge and defy through his refusal to be drafted to fight in Vietnam, his rejection of his "slave" name, and ultimately his final fight with his body itself through a thirty-year battle with Parkinson's disease. Witness what made Ali different, what made him cool, what made him the Greatest.
The critically acclaimed French graphic novel is now available in English, and is suggested for ages 14+.
Adora and the Distance
Marc Bernardin, Ariela Kristantina, Bryan Valenza, Bernardo Brice
Adora and the Distance is a young adult fantasy graphic novel following the epic adventures of Adora, a brave young Black woman who lives in a fantastical world with underground pirates, ghosts, and a mysterious force called "the Distance" which threatens to destroy it all–and only Adora can stop it.
Written by Marc Bernardin, the award-winning television writer/producer on Star Trek: Picard, Critical Role: The Legend of Vox Machina, Masters of the Universe: Revelations, Castle Rock, and more; illustrated by Ariela Kristantina (Mata Hari). Originally released digitally on ComiXology Originals, now coming to print from Dark Horse in March 2022.
The story is a tribute to Bernardin's own daughter and her journey with autism. He wanted to write a story that anyone could enjoy, and also: "I didn't want to tell a story about those of us who love their autistic friends or family members. Instead, I wanted to try and imagine the story one of those kids could be telling about themselves, about the adventures they're taking inside their own mind."
"It's a quest story, first and foremost… it's just that the terrain our characters are traversing has quite a bit going on under the surface." –Bernardin
Stranger Things: Erica the Great
Danny Lore, Greg Pak, Valeria Favoccia, Dan Jackson, Nate Piekos, Ron Chan

Having appeared in several of the Stranger Things comics so far, now the fan-favorite character Erica Sinclair gets a whole graphic novel of her own!
In this story, Erica continues to try to play the game she's secretly fallen in love with, thanks to her "nerdy" brother and his friends: Dungeons and Dragons. However, she has to deal with rules laid down by her mother, among other things… like her frenemy losing track of her mother's prized parakeet! The two will have to learn to work together to return the bird safe and sound, or deal with the consequences. Along the way, they learn that even the toughest and smartest people need a little help sometimes.
Writer Danny Lore joins returning Stranger Things comic writer Greg Pak for this book, helping to bring personality to Erica, her mother, the neighbors, and other characters Erica meets (and sasses) along the way.
Stranger Things: Erica the Great is the third Stranger Things graphic novel geared toward a middle grade/young adult audience. Recommended for ages 10+. You can see all Stranger Things graphic novels and comics here.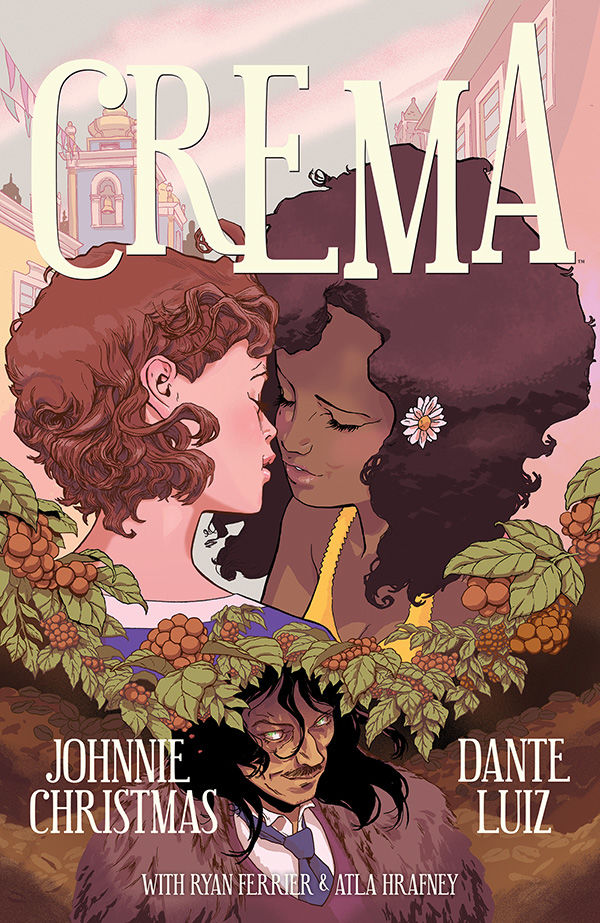 Crema
Johnnie Christmas, Dante Luiz, Ryan Ferrier, Atla Hrafney

"This book is a love letter to love swathed in the richest flavor imaginable. And one that enchants and haunts you with the taste of coffee all around it." –Comic Watch
#1 New York Times bestselling cartoonist Johnnie Christmas and Prism Award-nominee Dante Luiz present a haunted tale of love, ghosts, and coffee beans. The ComiXology Original digital graphic novel Crema is now available in print for the first time, recommended for ages 16+.
Esme, a barista, feels invisible, like a ghost. When Esme drinks too much coffee, she actually sees ghosts. Yara, the elegant heir to a coffee plantation, is always seen, but only has eyes for Esme. Their world is turned upside down when the ghost of an old-world nobleman begs Esme to take his letter from New York City to a haunted coffee farm in Brazil, to reunite him with his lost love of a century ago, bringing sinister tidings of unrequited love.
The story touches on the complex relationships between agriculture and industry, American-Brazilian trade, and independent and corporate businesses–told through the relationship of Esme, Yara, and coffee. As Christmas says, "The only way to a less haunted future is to make peace with the ghosts of the past."
"I'm buzzing with excitement that Crema is coming to print in this wonderful new edition," says Christmas. "I can't wait to finally hold it in my hand, with an Americano in the other (ample crema of course). Two dark, sweet treats to raise the spirit and warm the heart."
Delver
MK Reed, C. Spike Trotman, Clive Hawken
From Iron Circus Comics founder C. Spike Trotman and Eisner-nominated writer MK Reed, illustrated by Clive Hawken, Delver is an original action-adventure story. First presented digitally as part of ComiXology Originals, now Delver is collected in paperback, available wherever comics and books are sold. Recommended for ages 12+.
When the door to a living dungeon surfaces in the tiny hamlet of Oddgoat, village girl Temerity Aster has two choices: abandon the only home she's ever known to carpet baggers and sellswords, or carve out a place for herself and her family in the new and dangerous world of delving.
Co-writer Trotman says, "[Delver is] a fantasy adventure for folks who loved Terry Pratchett's self-described unimaginative' approach to world-building; an insistence on asking questions, wating to know why and how things worked the way they did. In my case, Delver is my answer to 'Where are all these abandoned, treasure-laden dungeons coming from, anyway? And what happens when you unload all that loot in the tiny hamlet down the road?' It's for fans of Critical Role, Ursula K. LeGuin novels, and The Adventure Zone."