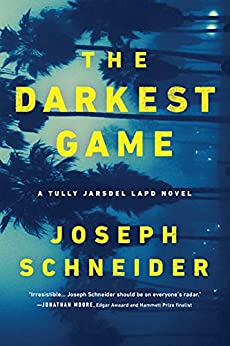 THE DARKEST GAME BY JOSEPH SCHNEIDER
LA Confidential meets Harry Bosch in this cinematic, gritty police procedural. Hollywood's glittering past casts dark shadows, and some people will kill to keep their secrets out of the light.
Shot dead and stripped of his valuables, the senior curator at the Huntington Library appears to be the victim of a mugging gone wrong—a case doomed to rot in an evidence locker. But scholar-turned- LAPD Detective Tully Jarsdel suspects something more sinister is afoot. An investigation that starts with disgruntled grad students and antique dealers soon reveals a history of theft and fraud, all leading to Hollywood's abandoned playground: Catalina Island.
In his most dangerous investigation yet, can Jarsdel uncover LA's lost history before the conspiracy silences him forever?