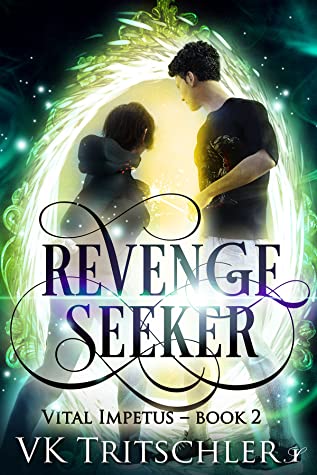 Revenge Seeker (Vital Impetus Book 2) by V.K. Tritschler
A young woman who has become the heir to a multiversal kingdom must protect her loved ones and stop her maniacal grandfather, who took her own father's life, in author V.K. Tritschler's "Revenge Seeker", the second book in the Vital Impetus series.
The Synopsis
Her Grandfather took her father's life, and now Jess wants revenge.
Heir to a multi-verse kingdom Jess should be the most powerful woman in the world, able to keep her loved ones safe and bring peace to the realms. But with her newfound powers, came newfound dangers.
Jess is determined to protect the people she loves. To keep her sister, mother and boyfriend Peter safe, she sends them away, where her enemies can't find them. When, Peter's parents find out she's the offspring of their mortal enemy, they are determined to keep them apart forever.
Going alone is perilous, and it's hard to tell the difference between friend and foe. Determined to bring down her maniacal Grandfather, Jess is just beginning to realize the depth of her ties to those around her and the strength they bring to her.
Will she become the great protector or is she more like her Grandfather than she wants to admit?
The Review
This was such a fast-paced and entertaining read! The author did a truly fantastic job of world-building and crafting a very rich and descriptive narrative that really brought a large sense of imagery that captured the essence of these various worlds and realms the narrative took the protagonist in. The balance of character growth and mythos was perfectly captured, bringing both heart and creativity to the worlds in which Jess found herself.
The character exploration in this story was unparalleled. The examination of protagonist Jess was especially brilliant, as her gifts and her mission for revenge were really tested when faced with the strain it put on her relationships, both with her mom and sister and with her longtime friend and boyfriend Peter. The twists and turns that came as a result of her desire to protect them as well as her need to avenge her father's death were amazing. The tension and grim reality of her family life came to life in her battle with her grandfather, as she had to not only discover what life was like in his kingdom and under his rule but had to discover the lengths to which his villainy and desire for power extended.
The Verdict
Captivating, engaging, and adrenaline-fueled fantasy action and adventure, author VK Tritschler's "Revenge Seeker" is a must-read novel and the perfect next chapter in the Vital Impetus series! The twists and turns in Jess's journey and the exploration of the corruption that power can bring and the blurred line that can come when seeking both justice and vengeance made this story really come to life, and the cliffhanger ending that left the fate of several characters up in the air made this a book that couldn't be missed. So be sure to grab your copy of this wonderful read today!