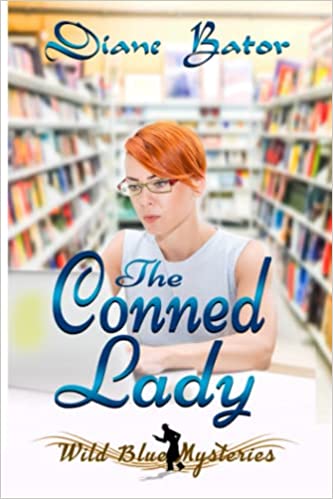 The Conned Lady By Diane Bator
Canadian author Diane Bator is also an editor, a book coach, a martial artist, and a Reiki Master. Her blog is Escape With A Writer, the title of which suggests her keen interest in mysteries. She is a member of Crime Writers of Canada, Sisters in Crime, The Writers' Union of Canada, and The Writers' Community of York Region. Her mystery series: Glitter Bay Mysteries, Gilda Wright Mysteries, Audra Clemmings Mysteries, and Wild Blue Mysteries, of which THE CONNED LADY is Book 5.
As a reader new to this author, it is refreshing to discover a mystery writer whose style of creating, unwinding, and pinging the reader with a airborne ending is matched by a keen wit and appreciation for the peripheral clutter of our time – that invasion of privacy that includes emailing correspondence. Diane masterfully creates characters with whom we become involved and escorts us through a very well devised tale that defies turning out the light at night.
A touch of her prose secures interest: "Hey, isn't that your friend on television?" Hilda Clayton interrupted Katie's thoughts as she scanned through the thirty emails that had popped up like daisies overnight. Katie peered at the screen but didn't see a familiar face. "Who?" Her landlady turned the volume up to a nine despite normally keeping at a seven this early in the day. The news anchor announced. "As we reported earlier, all charges against Gerard Maddox, the former CEO of DMR Architectural have been dropped due to a technicality…Katie dropped her phone in her lap as a still of her former boyfriend stared back at her from the television. "Are they kidding? There was plenty of evidence. Danny and Leo dug through every waste basket, file cabinet, and garbage bin to get it…' Two primary sleuth characters are thus introduced.
A bit of an aperitif is offered to hint at the oncoming mystery: 'Eccentric romance novelist Mimsy Lexington has a secret. When she approaches Katie Mullins to help find details around her late husband's death, Katie and her boyfriend Danny Walker are drawn into a web of lies and deceit. The deeper they dig, the more they realize the biggest dangers may lurk close to home and need to suspect everyone—including Mimsy.'
Well written and richly entertaining, Diane Bator is as polished as mystery writer as they come. For all those who enjoy a tart mystery, welcome to this arena! Very highly recommended. Grady Harp Review.