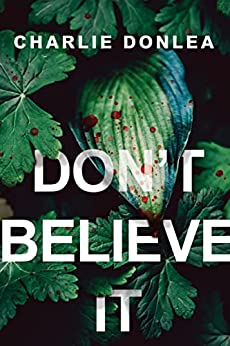 DON'T BELIEVE IT by Charlie Donlea
USA Today and #1 international bestselling author Charlie Donlea merges high-concept suspense and stunning twists with all the binge-able intrigue of your favorite true crime podcast, building to an explosive conclusion you'll never see coming…
The Girl of Sugar Beach is about to become the most-watched true crime docuseries in TV history… Is she a killer? Or the victim of a shocking fail of justice?
The Girl of Sugar Beach is must-see TV—a riveting, true-life mystery that unfolds over twelve weeks and centers on a fascinating question: Did Grace Sebold murder her boyfriend, Julian, while on a Spring Break vacation, or is she a victim of circumstance and poor police work? Grace has spent the last ten years in a St. Lucian prison, and reaches out to filmmaker Sidney Ryan in a last, desperate attempt to prove her innocence.
As Sidney begins researching, she uncovers startling evidence overlooked during the original investigation. Before the series even finishes filming, public outcry leads officials to reopen the case.
Delving into Grace's past, Sidney peels away layer after layer of deception. But as she edges closer to the real heart of the story, Sidney must decide if finding the truth is worth risking her newfound fame, her career . . . even her life.