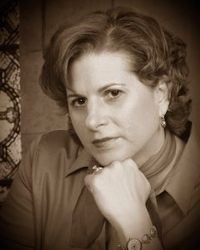 What Scares Me Most? Ellen Butler
You're probably expecting me to say something like ghosts or heights or serial murderers. Nope. Right now, in this time in history, Vladimir Putin is the scariest thing out there. His rise to power as a Russian dictator, his ability to sway social media within Western democracies, his invasion of Ukraine, and his erratic behavior frightens me, because I feel as though we are closer to nuclear war than ever before.
When I began researching a sequel to The Brass Compass, I realized I would not be writing about WWII, since the book closes near the end of the war. I also wanted to challenge myself and research new ground. (I'm going to date myself now) as a child of the 70s and 80s I grew up during the Cold War not far from Washington, DC. Nuclear war never really frightened me, because I was too close to ground zero to worry about it. For those who don't or are too young to remember, Berlin, Germany became the eye of the Cold War storm. Politicians, historians, and journalists all agreed that Berlin was a smoking powder keg, that would lead to utter annihilation. This was one of the reasons, I placed my new Cold War spy novel in Berlin.
As a child I realized tensions between the Soviets and the USA ran high. I wasn't alive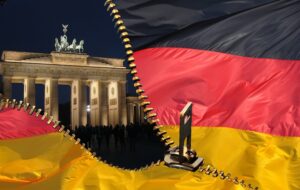 during the Stalinist era, but history and research have shown him to be an authoritarian dictator who oppressed his own people along with half the continent of Europe. When the Soviets became a nuclear power mutually assured destruction kept both sides from destroying the planet. While Stalin and his antecesors ran the gamut of mental stability, as did some of our own presidents, one thing everyone agreed on—nuclear war would not be good for either side.
Today Vladimir Putin beats his chest by making threats against the US and the West, and we have no way of knowing if he would really push the button, or if it's all grandstanding. Clearly, through his initial annexation of Crimea and subsequent invasion of Ukraine, he has shown he's willing to send his people into war and death. The question we face daily—is Putin willing to wipe out his entire country? A likely ramification should he use nuclear weapons against Europe or the US.
I no longer live in Washington. Moreover, I don't believe I'm close enough to a military installation to be wiped out in the first wave of nuclear attack. Instead, my fear has become the creeping death of unseeable radiation poisoning. That is why Vladimir Putin is my own personal boogie man.
Here's a look at Ellen's latest release:::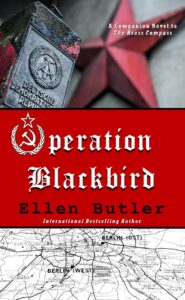 Operation Blackbird
Her mission is a race against time to outmaneuver the KGB…or die trying.
October, 1952. The war is over, but for CIA officer Miriam Becker, memories of the horrors she witnessed remain jagged in her mind. While vacationing in Argentina, recovering from a mission that nearly killed her, she's seeing more ghosts from the past than the sights.
When a longtime family friend and fellow operative, Jake Devlin, tracks her down, Miriam is forced to push everything to the back of her mind for the next mission: help a highly prized and heavily guarded rocket scientist defect from Soviet-controlled East Berlin—right out from under the KGB's nose.
Well aware that one wrong move could spark World War III, Miriam, Jake, and the team plan their strategy to the last detail. But when a betrayal brings everything crashing down, Jake's quick thinking creates the diversion to get Miriam out alive—but leaves him trapped behind the Iron Curtain.
Unsure of whom she can trust, Miriam must complete the mission by relying on contacts outside of the agency, even though her heart longs to return to East Berlin to rescue the man who is the last link to her troubled past … before the KGB gets to him first.
Buy at:::
ABOUT THE AUTHOR:
Ellen Butler is the internationally bestselling author of historical spy novel, The Brass Compass. The Brass Compass has won multiple awards for historical fiction including the Indie Reader Discovery Award, and a Readers' Favorite Award. Her fascination for historical spy fiction stemmed from her grandfather's role as a cryptographer during WWII. Butler is also the author of the bestselling Karina Cardinal mystery series. When she's not writing, Butler enjoys spending time with her family, traveling, and home decorating.
You can find Ellen at:
Website ~ www.EllenButler.net
Facebook ~ www.facebook.com/EllenButlerBooks
Twitter ~ @EButlerBooks
Instagram~@ebutlerbooks