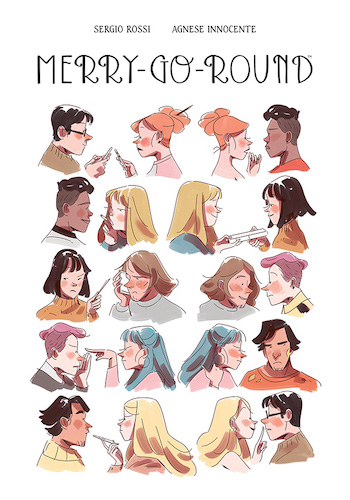 Dark Horse Books is excited to work with writer Sergio Rossi (Edward Hopper: The Story of His Life, Nikola Tesla) and illustrator Agnese Innocente (Anna Dai Capelli Verdi) to present Merry-Go-Round, published by the Italian publisher Il Castoro and translated by Carla Roncalli di Montorio. It was awarded with the prestigious Andersen Prize as "Best Comic Book of the Year" in Italy in 2021. This is the first time the graphic novel will be released in English.
Life as a teenager is full of challenges and learning moments, from love triangles to missed appointments and beyond. Merry-Go-Round features the stories of a group of young people just trying to get through their day-to-day life, all while romance and simply growing up are throwing roadblocks along the way. Based on the Arthur Schnitzler play by the same name, this volume is a perfect encapsulation of growing up, and trying to figure everything out.
The Merry-Go-Round trade paperback will be available in comic shops July 5, 2023 and bookstores July 18, 2023. It is available for pre-order now on Amazon, Barnes & Noble and your local comic shop and will retail for $19.99.
Praise for Merry-Go-Round:
Winner of the Anderson Prize for Best Comic book, 2021–
"For the ability not only to transpose a classic of dramaturgy literature into the language of comics but also, and above all, for having done it with an originality that intensely interprets the sensitivities and disturbances of contemporary adolescence"