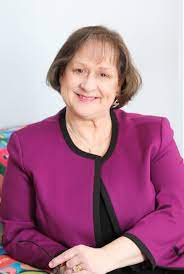 Welcome Lynne! We are excited to have you on the blog today. Let's begin with learning a bit about you!
I'm a family counselor, education consultant to schools, and a fiction writer. I'm originally from a small town in Central Massachusetts. I lived in Boston for quite some time, and now I live south of the city near Cape Cod. In addition to writing novels, essays, and short stories, I work as a developmental editor and collaborative writer to develop fiction and nonfiction projects for other writers.
How long have you been writing and it is your full time job? If not, what is your 'real world' job?  
As a family life expert, I've been writing health, education, and parenting articles and books since I got out of college. I started writing fiction at forty, after the loss of my mother got me thinking, if not now, then when. Dark Rivers to Cross is my fifth novel.
What does your typical writing day looks like?  
I'm an early riser, and the pages I generate in the morning are by far my best writing. If I'm working on a first draft of a story or novel, I've only got a few hours in me. But if I'm revising I can go ten hours straight. I love this stage of crafting a novel, digging into the narrative and finding the heart of the story.
Tell us about your latest release. 
Dark Rivers to Cross is an emotionally charged novel of domestic suspense that sensitively addresses adoption, inherited trauma, and the secrets parents shield their children from in hopes of protecting them from truth's painful realities.
Lena Blackwell has kept her sons sheltered and close by her side for over two decades, working and living at their successful Maine river lodge. She's raised them to be kind, hard-working, and caring young men—and she's determined that they never learn of their true origin story, even though that's meant erasing every connection she has to her own past. When Lena's son Jonah insists on searching for his biological family, she's resolved to stop him from discovering what is certain to shatter the peaceful life she's built for him and his brother. Luke wants nothing to do with the search, but he recognizes that his brother will never give up and feels caught between the devastating secret his mother is desperate to hide and the hard truths his brother is determined to expose. When friends from their mother's past unexpectedly arrive at the lodge, a series of events is put into motion that Lena is unable to halt, jeopardizing the very relationships she's lied to protect and forcing her to sacrifice everything, perhaps even her life, to protect her sons.
What inspired the idea for this book? 
For decades my family and I have vacationed in Maine. There is something enormously powerful about the rugged landscape of the Northern woods. For years, I've known I'd set a story there. When the characters of Lena and her sons came to me, it was inevitable that a place like Church's Overlook would be the perfect setting to let their story play out.
Which of the characters do you relate to the most and why? 
I love Lena, Luke, and Jonah for different reasons, but I have a particular fondness for Luke. He's a sensitive young man who respects nature and feels deeply connected to our natural world. Luke's thoughtfulness and how he grapples with the turbulence in his family is something I appreciate. His strength is his gentleness.
Would you and your main character be friends? 
As much as I might like to be, it would be difficult to be friends with Lena. In this story, in order to protect the deception she's crafted, Lena is a mother who keeps her distance from people, even those she loves. She actively engages in ways to hold herself far from others in an effort to protect her sons, making it hard for her to be seen and known.
What part of the book was the hardest to write? 
I modeled the structure of the book on the shape and intricacies of a river. When Luke moves the story forward to help Jonah find his birth parents, Lena provides an obstacle to the search. When Lena successfully holds both boys back from learning key details that will bring them closer to their goal, Luke and Jonah take their quest in a different direction. It's both extremely difficult and exciting to work with such a complicated structure. But like rafting in white water, sometimes the hardest challenge is the most thrilling.
Did you model a character after someone you know?
My characters are always a composite of people I've met or the themes I've heard from clients. As a family counselor, I hear lots and lots of stories involving dangerous relationships. There are patterns in women's stories that I draw from, but never any one person in particular.

Could you share one detail from your current release with readers that they might not find in the book?    
Readers might figure this out because of the definitions of words at the beginning of each section of the novel, but those words were carefully chosen to reveal upcoming plot twists. Like a turbulent river, you can only see what is directly ahead, and not the crosscurrents that are about to present themselves to you. It was a super enjoyable structure to work with. And if you're a nature lover like me you'll have fun with it.
Are there any particular authors that have influenced how you write and, if so, how have they influenced you? 
While I don't model my writing after any writer in particular, I do hope my writing gives readers the same sense of cinematic immersion in place and character that I experience when I'm reading Louise Erdrich, Tana French, John Irving, or Joy Castro. There is nothing like losing yourself in a story, and I aim to do that for readers with my work.
What's your favorite under-appreciated novel? 
I have many! I'm in awe of The Resurrection of Joan Ashby by Cherise Wolas. It's a novel about a short story writer, and her stories are embedded within the narrative. It's quite remarkable. I also love The Nine Lives of Rose Napolitano by Donna Freitas. This novel is also uniquely structured. Readers are shown nine ways in which the main character does or does not experience motherhood.
Do you have a secret talent readers would be surprised by?  
Once upon a time I was a singer. I sang in night clubs and I got paid to sing radio jingles. My two adult children are musicians and singers, and they are far more talented than I ever was. It's so moving to see what they can do with their music.
And what is your writing Kryptonite? 
I love beautiful stationery. Gorgeous journals, pads of paper, notebooks, pens. Recently, I bought a handsome journal in black with a bright pink peony on the cover. I plan to use it for research on my next novel.
What is the one question you never get ask at interviews, but wish you did?
I haven't been asked yet which of my novels is my favorite. Probably because it's a little bit like asking a mother which of her children she loves most. The simplest answer is, I love them all for different reasons. And I hope readers do too.
Thank you so much for joining us today, Lynne. Reader's, here's a quick peek at DARK RIVERS TO CROSS: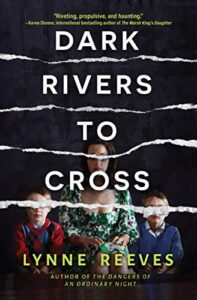 For two decades, Lena Blackwell has kept her sons at her side, teaching them everything she knows about running their successful river lodge in Northern Maine. But what she really wants is to keep her boys in the dark about their tragic past.
Her son Luke is right where he belongs, working at the family inn sheltered by acres of pine forest that stretch along the Penobscot River. So when his adopted brother, Jonah, threatens to upend their peaceful life by searching for his biological parents, Luke refuses to help.
Lena is determined to thwart Jonah's search to uncover his own history. But the unexpected arrival of old friends at the inn for a weekend off the grid throws her plans into disarray. Little does she know, Jonah has already gleaned enough information to set in motion a deadly reckoning.
Luke may not want to know anything about his family, but he's caught between the hard truths his brother is determined to expose and the devastating secret his mother is desperate to keep—at any cost.
Dark Rivers to Cross sensitively explores inherited trauma and the stories we tell the ones we love. It's about what one mother is willing to sacrifice for her children.