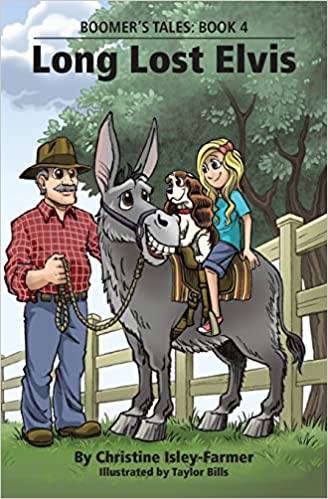 Long Lost Elvis! By Christine Isley-Farmer
Book 4 of the Boomer's Tales Series
A donkey runs out in front of Nana Weathers's car when she, Chloe, and Boomer are returning from Camp Resound. Mr. Brown, a farmer, drives upon the scene. To thank them for keeping his donkey, Elvis, safe, Mr. Brown invites everyone to his farm. There, they discover that his wife's favorite painting is missing, and so begins a new mystery for Chloe and friends to solve. Will their efforts be successful, and what surprises will they learn about Elvis, the runaway donkey?
https://books2read.com/u/4AvGdp
ABOUT THE AUTHOR:
Christine Isley-Farmer's fourth book in the "Boomer's Tales" series continues the
adventures of a Cavalier King Charles Spaniel as the story's narrator. Christine loves this dog breed and has owned three Cavaliers. She encountered her first Cavalier, Fleur, while performing with the Harrisburg opera. She was captivated by the big brown eyes and gentle, lively nature of the breed. Her present Cavalier, Dylan, enjoys walks and snuggling next to her in her recliner. Christine, a classically trained singer who has sung in the United States and Europe, has been a university music professor. The stories in opera and song have fascinated and inspired her. The power of stories and music's healing qualities have woven their way through her life and have found voice in her writing. Her debut book in the series, Finding My Yip, was named Finalist in the 2021 American Writing Awards in the children's fiction category. A Hard Nut to Crack, the second book in her series, was name Finalist in the 2022 National Indie Excellence Awards in the children's chapter book category.