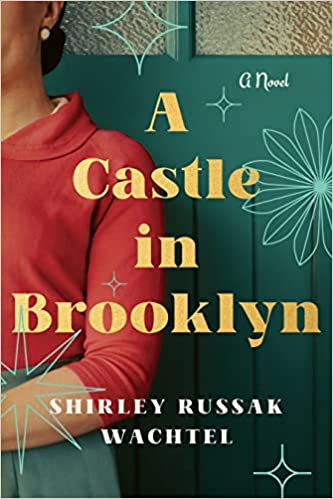 A CASTLE IN BROOKLYN By Shirley Wachtel
In 1994 Poland, Jacob Stein and Zalman Mendelson meet as boys under terrifying circumstances. They survive by miraculously escaping the brutalities of the Holocaust, but their shared past haunts and shapes their lives forever.
Years later, Zalman plows a future on a Minnesota farm, and Jacob has a new life in Brooklyn with his wife, Esther. When Zalman travels to New York City to reconnect, Jacob's dream to build a home in Brooklyn becomes a reality. With Zalman's help, they build a house for Jacob's family and for Zalman, who decides to stay. Modest and light filled, inviting and warm, it's a castle to call home for each of them.
Then an unforeseeable tragedy―and the grief, betrayals, and revelations in its wake―threatens to destroy what was once an unbreakable bond, and Esther finds herself at a crossroads.
Life goes on as others, with their own dreams, move into the home. Eventually, the novel comes full circle as those who remain come to understand the true nature of friendship and family.
When asked about the inspiration for her novel, Shirley explains, "I am defined by my parents' legacy. Growing up the child of Holocaust survivors, never knowing my grandparents and with only a handful of extended family members, I came to understand the importance of family and am driven to express this idea in my writing. From a young age, I learned of the horrific experiences my parents endured and their desire to build a better life for their children. Their story is the story of so many others seeking to build a new home in America. I wanted to express this idea in A CASTLE IN BROOKLYN."
The book has received some great advance praise:
"A CASTLE IN BROOKLYN is a story about love and endurance. It follows Jacob and Zalman as they survive 1944 Poland and make their way to America, to a dreamlike life that is shattered too soon. With deep empathy, Wachtel lays bare an incredible resilience and desire to live that will inspire readers and keep them turning the page. Magnificent." ―Rachel Barenbaum, author of A Bend in the Stars and Atomic Anna
"An enchanting, lively, and heartbreaking novel―all at once―A CASTLE IN BROOKLYN evokes such a tantalizing yet improbable image, especially for Holocaust survivors. Survival rendered them royalty, but could a fortress keep them safe from memories and destinies that could cross any moat? Wachtel delivers a most worthy debut."
―Thane Rosenbaum, author of The Golems of Gotham, Second Hand Smoke, and Elijah Visible
ABOUT THE AUTHOR:
Shirley Russak Wachtel is an educator, novelist, and author of several children's books. Her
short stories and poems have appeared in various literary journals. She has earned a Doctor of Letters Degree from Drew University, and in 2017 she received the Middlesex County College Scholar of the Year Award.