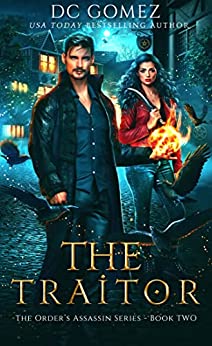 THE TRAITOR By DC Gomez
Book Two of The Order's Assassin Series
Witches, Demons, and Shifters are all landing in Salem. But who do you trust?
Eric's search for Rafael, the Order's betrayer, is leading to a dead end. Running out of time, he decides to enlist the help of some old acquaintances in Salem's underground. 
In the meantime, the Garcia Clan, the deadliest of all the shifter assassin families in the world, has been attacked. Tensions are rising as Sasha is forced back on the field to investigate and bring the culprit to justice.
 With both the Order of Witches and the Garcia Clan searching for the truth, Eric and Sasha are the only ones standing between a full-on blood bath.
* The Traitor is book two in the Urban Fantasy Series The Order's Assassin. Our favorite witch and former cop, Eric, from the Intern Diaries Series, has a new job with the Order of Witches. With no way out, he must continue his mission to clean out the Order, before he becomes the one hunted down.
 The Traitor (The Order's Assassin Book 2) – Kindle edition by Gomez, D. C. . Literature & Fiction Kindle eBooks @ Amazon.com.
The Traitor (The Order's Assassin Book 2) eBook : Gomez, D. C. : Amazon.ca: Kindle Store
ABOUT THE AUTHOR:
D. C. Gomez is an award-winning USA Today Bestselling Author, podcaster, motivational speaker, and coach. Born in the Dominican Republic, she grew up in Salem, Massachusetts. D. C. studied film and television at New York University. After college she joined the US Army, and proudly served for four years. 
D. C. has a Master's Degree in Science Administration from the Central Michigan University, as well as a Master in Adult Education from Texas A&M- Texarkana University.  She is a certified John Maxwell Team speaker and coach, and a certified meditation instructor from the Chopra Center. 
One of D. C. passions is helping those around her overcome their self-limiting beliefs.  She writes both non-fiction and fiction books, ranging from Urban Fantasy to Children's Books. To learn more about her books and her passion, you can find her at www.dcgomez-author.com.