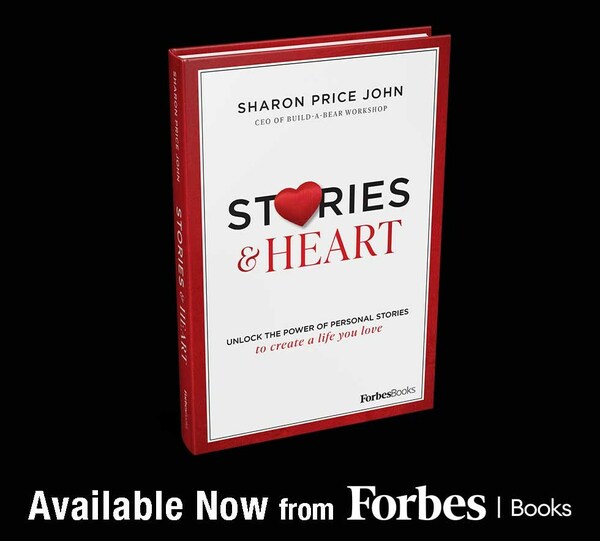 Stories & Heart: Unlock the Power of Personal Stories to Create a Life You Love by Sharon Price John is now available. The book is published with Forbes Books, the exclusive business book publishing imprint of Forbes, and is available on Amazon today.
Sharon Price John has been the President and CEO of the publicly traded company, Build-A-Bear Workshop, for nearly a decade. During her tenure, she successfully led the 25-year-old organization through the economic turmoil of a global pandemic, emerging as a reimagined organization achieving its most profitable year in its history.
Ms. John's unlikely combination of small-town southern roots and big-city Ivy League education make for a compelling contrast in observations and insights. Stories and Heart, her debut book, is a compilation of life experiences that include a tree climbing challenge in childhood, an entrepreneurial business disappointment, leading some of the world's best-known brands, and more. Her personal stories inform the lessons of her book in an approachable manner and understandable format.
With each chapter featuring a "Story," a "Question from the Heart," and a personal exploratory exercise, this actionable guidebook to creating a life you love is an invitation for readers to challenge their own mindset through the lens of each experience shared.
"The goal is for this book to be as much a journey for you, as it was for me," Ms. John explained. "This is an opportunity for you to think about what matters in your life while hopefully revealing an appreciation and understanding that your personal stories and, more importantly, the meaning you have woven around them not only impact your journey but can be predictive of it."
Sharon Price John has served as Chief Executive Officer of Build-A-Bear Workshop, Inc. since 2013. In her tenure as CEO, she revitalized the brand, bringing profitability back to the publicly traded company and creating a springboard for the brand's relevance in the years to come.
She also serves on the board of directors at Jack in the Box and on the executive committee of the Toy Industry Association board. She has been named one of the University of Tennessee Knoxville's 100 Distinguished Alumni of the last 100 years. Sharon lives in St. Louis with her husband and three children.