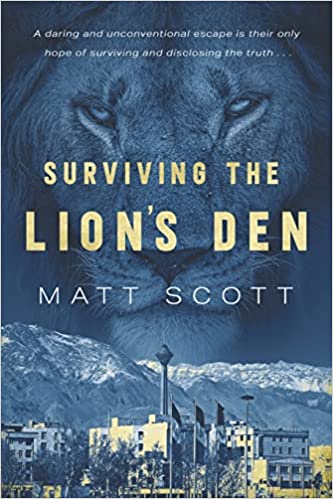 "Surviving the Lion's Den" by Matt Scott
This is the first book in the "Surviving the Lion's Den" series. There are now three books in this series, and I will read all three!
Every now and then I read a book that has multiple plot lines, and characters, that when reading the book magically flow to one ending, but…….those books are really hard to summarize without spoiling things.
This is one……
But, I'll try:
A veteran CIA agent, Tom Delang, is taken hostage by an Iranian revolutionary group. He is tortured for a year, but, his ultimate fate…….
A "retired" Iranian activist is murdered in his home in North Carolina and his grandson, Kirk Kurruthers, travels to Iran to…….
An Iranian dope / alcohol smuggler, Farhad, has started a new business as an in-country guide, his first client……..
Several trusted confidants……well, listen to Mulder.
The U.S. military bombed a school killing many kids, the ramifications of that bombing…….
A U.S. Senator, Vivian Walsh, is hell bent on…….
Oh, you get the idea.
To find out what happens beyond the "……." you will have to read this book!
"Surviving the Lions Den" is a terrific, fast, furious, non-stop rollercoaster that keeps the reader breathlessly on the edge of their seat…..until the forces of nature take over.
Non-stop action, intrigue, betrayal, and heroism all collide in a high-flying conclusion that will blow you away.
Can't wait for book #2. 🙂