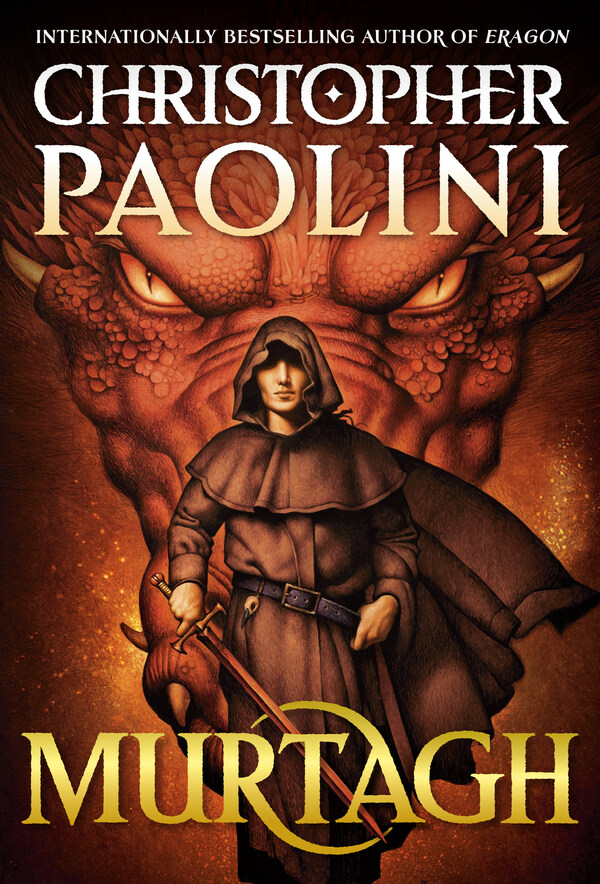 2023 marks the 20th anniversary of Eragon.
Murtagh: The World of Eragon (The Inheritance Cycle)
 MURTAGH, a brand-new novel from master storyteller and internationally bestselling author Christopher Paolini (The Inheritance Cycle), will release on November 7, 2023, with a first printing of 2 million copies in the U.S., it was announced today by Barbara Marcus, President and Publisher of Random House Children's Books, a division of Penguin Random House. In 2003, Paolini burst onto the literary scene at the age of 19 with the publication of Eragon, which sold a million copies within a mere 6 months of its release. Twenty years later, the Inheritance Cycle (Eragon, Eldest, Brisingr, Inheritance) has sold over 40 million copies worldwide and is published in more than 50 countries.
Now, in the 20th anniversary year of Eragon, Paolini is back with MURTAGH, a full-length stand-alone novel that picks up one year after the events of the Inheritance Cycle and builds on the story of the original series. Murtagh is one of Paolini's most popular characters, and this latest novel gives him a story of his own. MURTAGH is a perfect entry point for readers looking to discover the next fantasy sensation or for anyone longing to return to Alagaësia and the World of Eragon
MURTAGH transports readers into an electrifying adventure, with danger and intrigue around every corner. The world is no longer safe for the Dragon Rider Murtagh and his dragon, Thorn. An evil king has been toppled, and they are left to face the consequences of the reluctant role they played in his reign of terror. Now they are hated and alone, exiled to the outskirts of society. But when Murtagh discovers something wicked lurking in the shadows of Alagaësia, so begins an epic journey into lands both familiar and untraveled, where he and Thorn must use every weapon in their arsenal, from brains to brawn, to find and outwit a mysterious witch. A witch who is much more than she seems . . .
Christopher Paolini has been heralded by the press since day one for his extraordinary writing abilities. The Washington Post named him "a true rarity," the Boston Globe called him "a spellbinding fantasy writer," and People commented that he "make[s] literary magic." Unbeknownst to many, Paolini is also an accomplished artist, and MURTAGH will include seven pieces of original black-and-white art that he created.
"Returning to the world of Eragon has been an absolute blast," said Paolini. "MURTAGH is the novel I've been waiting to write for over thirteen years. It's a deep dive into the life of our titular character and his dragon, Thorn. Here you'll find mystery, magic, and revelations as Murtagh attempts to answer some of the deepest questions in the land, as well as those of his own life. I've had a ridiculous amount of (sometimes devilish) fun writing MURTAGH, and I can't wait for readers to experience it for themselves. Welcome back to Alagaësia!"
Michelle Frey, Paolini's longtime editor at Knopf, said: "Returning to the World of Eragon has been a joyful experience. Christopher and I have been working together for more than twenty years, and he continues to surprise and impress me as a writer. MURTAGH is a triumph, where a beloved but misunderstood character gets his very own adventure, one that will keep readers on the edge of their seats. New readers will slip right into the world, and devoted fans will devour this story they've long been waiting for."
Frey, Executive Editor, acquired North American rights for MURTAGH from Simon Lipskar, President of Writers House. MURTAGH will release in the U.S. on November 7, 2023, as a hardcover, as an ebook, and as an audiobook from Listening Library. It will publish simultaneously in the U.K. with Penguin, an imprint of Penguin Random House UK Children's, and in Canada with Penguin Teen Canada.
A full year of Paolini publishing initiatives has been planned by Knopf. Newly packaged paperback editions for the Inheritance Cycle will release on April 25, 2023—also available in a boxed set—and include an excerpt of MURTAGH plus bonus in-world content. Also new and available this fall is ERAGON: The Illustrated Edition (on sale 11/7/2023), a dazzling oversized edition featuring brand-new, full-color illustrations by the talented fantasy artist Sidharth Chaturvedi, with world rights held by Knopf.
ABOUT THE WORLD OF ERAGON
The World of Eragon encompasses all of Christopher Paolini's books set in the fantastical world of Alagaësia, including the Inheritance Cycle (Eragon, Eldest, Brisingr, Inheritance); The Fork, the Witch, and the Worm; and the forthcoming stand-alone novel Murtagh.
The Inheritance Cycle is a #1 New York Times bestselling series that launched in 2003 with the release of Eragon, which Paolini originally wrote at 15 and self-published at the age of 17. Following its release with Alfred A. Knopf Books for Young Readers, Eragon sold a million copies in its first six months. It has since gone on to sell more than 7 million copies in the U.S. and Canada alone. Paolini's second novel, Eldest, sold more than 425,000 hardcover copies in its first week, making it the greatest single-week sale ever recorded for a Random House Children's Books title—hardcover or paperback—and the fastest-selling title in the publisher's history at the time of its release. Inheritance, the fourth and final installment in the Inheritance Cycle, sold 489,500 copies on day one—the highest first-day sale in 2011 of any fiction or nonfiction, adult or children's title published in North America.
A Disney+ live-action TV series based on Eragon is now in early development. Christopher Paolini will serve as co-writer and executive producer. Bert Salke will executive produce under his Co-Lab 21 banner, with 20th Century Television producing. Previously, Eragon was adapted for film by 20th Century Fox.