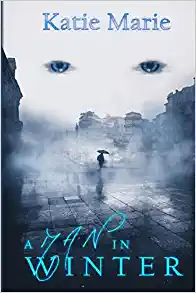 A Man in Winter By Katie Marie
Arthur, whose life was devastated by the brutal murder of his wife, must come to terms with his diagnosis of dementia. He moves into a new home at a retirement community, and shortly after, has his life turned upside down again when his wife's ghost visits him and sends him on a quest to find her killer so her spirit can move on. With his family and his doctor concerned that his dementia is advancing, will he be able to solve the murder before his independence is permanently restricted?
A Man in Winter examines the horrors of isolation, dementia, loss, and the ghosts that come back to haunt us.
A Man in Winter: Marie, Katie, Turpitt, Elle, Román, David: 9781957537054: Amazon.com: Books
A Man in Winter: Marie, Katie, Turpitt, Elle, Román, David: 9781957537054: Books – Amazon.ca
"I loved this book. Arthur is the man in the winter of his life. Alone since the passing of his wife, and facing the very real horror of dementia, he makes for an extremely likable but very unreliable narrator. Katie Marie does a fabulous job of giving the reader enough background to make him seem the hero, without slowing the pace of the story. With every turn of the page, I felt that Arthur was that much closer to the end of his mind, but would he be able to solve the mystery of his wife's death in time" _ D. Weaver
"Sometimes a book that is supposed to be a horror/mystery novel ends up being much more. Arthur, who has lost his wife to murder, is coping with dementia. After he moves to senior living he sees his wife's ghost who comes to him to ask him to find her murderer. This book was a joy to read. The horror of losing who you are is greater than the thought of ghosts. Great book with a great storyline. Not at all what I expected, in a good way." _ Stacy B: Amazon Reviewer
ABOUT THE AUTHOR:
Katie Marie is a horror enthusiast and writer from Norfolk, England. She has been published in several anthologies and magazines, including The Horrorzines Book of Ghost Stories which won Best Anthology in the 23rd Annual Critters Readers' Poll.
Katie started writing while studying for her Law Degree at Aberystwyth University in the early 2000's and several years and stories later she received her Masters Degree and published her first novel.
You can connect with Katie on Facebook at facebook.com/katiemariewriter or on Twitter @KatieMarieWrite. You can also visit her website, katiemariewriter.com to sign up for emails about new releases, short stories and blogs gushing about the horror genre.