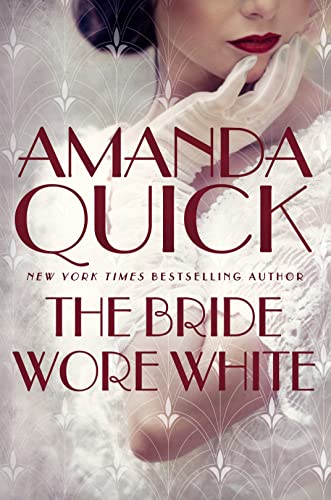 Book Review: The Bride Wore White by Amanda Quick
Book 7 of the Burning Cove Series is perfectly wonderful as an addition and a stand-alone.
Burning Cove, California is a glamorous seaside playground for stars, mobsters, spies, and a host of others who find more than they bargain for in this mysterious town. On the pages you'll find historical romantic suspense and all it entails, Danger, Action, Romance, and a bit of the psychic paranormal.
I really enjoyed this Historical Romantic Suspense.Is she the Nightmare Psychic or the Killer Bride or is she being framed? A page turner due to the search for a murderer and also the witty banter and building attraction between the main characters. Prudence and Jack are highly entertaining. These two isolated individuals, reflecting of a modern gothic, are forced together to solve a murder before they can murder her. Together, they sleuth and debate the positive and negative between scientific analysis and existence psychic abilities. Their close proximity, analytical skills, and strong intuition begin to build understanding, let them succumb to their attraction…and knock down the walls their past trauma and current fears have built to deny themselves a future with someone.
The Case they are trying to solve is a great instrument for advancing their relationship and builds their determination to prove her innocence and find out who among the various suspects is the guilty one…and the suspects definitely keep the reader and Prudence and Jack guessing. Many fit the outcome in his criminal analysis tree, but those psychic bells/ energy let you know that it might be more! It's great to build on the facts and research but never doubt or fight what your sixth sense is telling you!