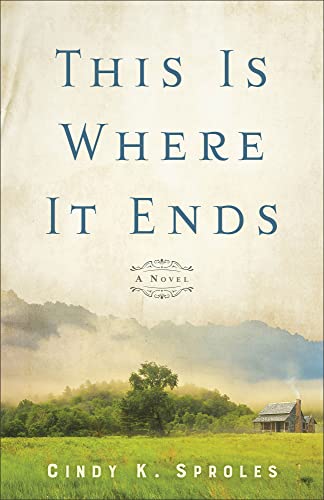 THIS IS WHERE IT ENDS By Cindy K. Sproles
Award-winning novelist Cindy K. Sproles has received high praise for her captivating and emotionally powerful storylines set in the South. Now she combines her love for the Appalachian Mountains with an unforgettable tale about secrets in her new novel, This Is Where It Ends.
At only fourteen years old, Minerva Jane Jenkins moves to the mountains with her new husband. Among their few possessions is a small box that he claims holds gold. On his deathbed, he makes her promise to keep his secret, telling no one of the box or its supposed treasure.
Thirty years later, Minerva has kept that secret, even as she nears the end of her own life. Rumors still find a way to spread, however, and Minerva finds herself the subject of interest for Del Rankin, a reporter with a desire for the truth. By his side is a friend who wants to know where the gold is hidden. Neither of them can even begin to guess the challenges they will face by trying to get what they want from Minerva.
Despite her dedication to keeping her late husband's secret, Minerva finds herself thinking about sharing what she knows with Del. Can she truly bring herself to break such a long-held promise? Even if she does, the truth of what's really in the box may be hidden even from her.
ABOUT THE AUTHOR:
Cindy K. Sproles is the author of What Momma Left Behind and the cofounder of Christian Devotions Ministries. A popular speaker, Cindy teaches at writers conferences across the country and directs the Asheville Christian Writers Conference in North Carolina. She is the executive editor of ChristianDevotions.us and freelance editor for Iron Stream Media. Cindy has a BA in business and journalism and lives in the mountains of East Tennessee with her family.